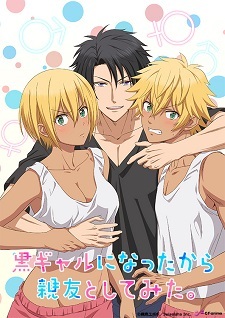 ComicFesta announced an anime adaptation of
Yupopo Orishima
's adult web manga
Kuro Gal ni Natta kara Shinyuu to Yattemita.
on Thursday. Cast, staff, and a key visual (pictured) were also revealed on the official website launched by the manga platform. The anime will air with the title
Kuro Gal ni Natta kara Shinyuu to shitemita.
The first episode was released on YouTube and the ComicFesta Anime website on Thursday ahead of the official premiere, which is scheduled for April 5 at 1:00 a.m. on Tokyo MX. An uncensored version will also be available on ComicFesta Anime on April 5 at 12:00 a.m.
Synopsis
Shion and Rui are the dream team when it comes to hitting on women. Tonight was going to be another night of hooking up with girls for Shion, but he ended up taking a strange drug. When he woke up... he'd turned into a girl?! Rui came looking for Shion, but didn't recognize him, and started hitting on him...
Cast
Shion Chihara:
Kazutomi Yamamoto
(
Nande Koko ni Sensei ga!?
)
Rui Chihaya:
Makoto Furukawa
(
Yuukoku no Moriarty
)
Staff
Direction: Chokkou
Script:
Eiyo Kurosaki
(
Overflow
),
Rei Ishigura
(
Jimihen!!: Jimiko wo Kaechau Jun Isei Kouyuu!!
)
Character Design, Chief Animation Director: McQ1
Color Design: Reika Ayanakouji (
Toshi Densetsu Series
)
Art Director: Namiko Hanayashiki, Tamako Noyama
Director of Photography: Hikaru Mitaka
Sound Director: Ayako Misawa (
Kyojinzoku no Hanayome
)
Sound Production:
blackflag
Studio: Irawias
Production:
Suiseisha
Orishima launched the manga on WWWave Corporation's ComicFesta website in October 2019. WWWave Corporation also publishes the manga in English through Coolmic. Publishing company Suiseisha released the first compiled volume in Japanese on July 18 last year. The second volume is set to be released on April 18.
Episode 1 (YouTube ver.)
Official site:
https://kurogal.cf-anime.com/
Official Twitter: @
CFAnime_BL
Source:
Chill Chill
Kuro Gal ni Natta kara Shinyuu to shitemita.
on MAL

RSS Feed