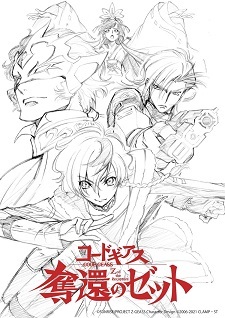 The Code Geass New Project Presentation livestream event announced a new anime series on Saturday—titled
Code Geass: Dakkan no Z
(
Code Geass: Z of the Recapture
). The new anime will follow the events after the
Code Geass: Fukkatsu no Lelouch
(
Code Geass: Lelouch of the Re;surrection
) sequel film, which takes place in an alternate universe.
Staff
Director:
Yoshimitsu Oohashi
(
Kokkoku
,
Sacred Seven
)
Script:
Noboru Kimura
(
Mondaiji-tachi ga Isekai kara Kuru Sou Desu yo?
,
Gundam Build Divers
)
Character Design:
Takahiro Kimura
(
Code Geass: Hangyaku no Lelouch
,
Gun x Sword
)
Knightmare Design:
ASTRAYS
(
Code Geass: Boukoku no Akito - Yokuryuu wa Maiorita
mechanical design)
Studio:
Sunrise
Director
Gorou Taniguchi
(
Planetes
), screenwriter
Ichirou Ookouchi
(
Devilman: Crybaby
), and animation studio Sunrise are credited for the original concept. All-female manga artist group
CLAMP
(
Cardcaptor Sakura
,
xxxHOLiC
) is returning as the original character designer.
The event also announced a smartphone game titled
Code Geass: Genesic Re;Code
, scheduled for release in Spring 2021. The new anime series and the smartphone game are both part of the franchise's Next 10 Years Project.
The original
Code Geass: Hangyaku no Lelouch
(
Code Geass: Lelouch of the Rebellion
) television anime premiered in 25 episodes in Fall 2006. The immense popularity of the first season led to the development of the second season,
Code Geass: Hangyaku no Lelouch R2
(
Code Geass: Lelouch of the Rebellion R2
), which broadcast in Spring 2008.
Bandai Visual
released the
Nunnally in Wonderland
original video anime in July 2012.
The five-part
Code Geass: Boukoku no Akito
(
Code Geass: Akito the Exiled
) original video anime series opened in theaters in Japan between July 2012 and February 2016. The spin-off takes place between the first and second season.
An
anime film trilogy
recapping the two anime seasons screened in Japan in October 2017, February 2018, and May 2018, with each installment featuring several changes to the original storyline. The
Fukkatsu no Lelouch
sequel film, taking place in the alternate continuity established in the recap trilogy, debuted last February.
Bandai Entertainment
originally licensed the anime in North America in 2007 and released the two seasons on home video from 2008 to 2010.
Funimation
reacquired the anime series in 2013 and shipped both seasons in 2016. The distributor also licensed the recap trilogy and the sequel film and released them last March and on February 25, respectively.
Official site:
http://www.geass.jp/
Official Twitter: @
GEASSPROJECT
Source:
Anime! Anime!
Code Geass: Dakkan no Z
on MAL

RSS Feed