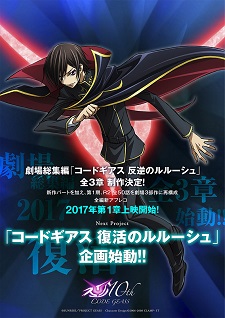 At the Code Geass 10th anniversary event on Sunday, it was announced that the series will be receiving a new anime project. Titled
Code Geass: Fukkatsu no Lelouch
(
Code Geass: Lelouch of the Revival
), the new anime will take place a few years after the events of Zero Requiem. In addition, a three-part compilation film series of the previous
Code Geass
anime has been planned for 2017. The voices will be redubbed for the movies, which will also include new scenes.
Code Geass: Hangyaku no Lelouch
is an original anime series produced by
Sunrise
, directed by
Gorou Taniguchi
with original character designs by manga artist group
CLAMP
, which aired in 25 episodes between October 2006 and July 2007. A sequel titled
Code Geass: Hangyaku no Lelouch R2
was subsequently developed due to the immense popularity of the first season, also airing in 25 episodes between April 2008 and September 2008. An OVA
Code Geass: Nunnally in Wonderland
was released in July 2012. A spin-off movie series titled
Boukoku no Akito
was announced in April 2010, which screened in 5 parts from July 2012 to February 2016. The series was initially licensed by
Bandai Entertainment
for North American distribution before
FUNimation
re-licensed it in August 2013.
Official site:
http://geass.jp/lelouch_10th/
Source:
Official Twitter
News submitted by
edge13
Code Geass: Fukkatsu no Lelouch
on MAL

RSS Feed