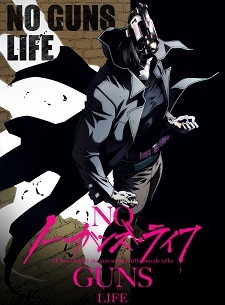 This year's April issue of Shueisha's
Ultra Jump
announced on Tuesday that
Tasuku Karasuma
's
No Guns Life
manga is being adapted into a TV anime. The anime series will be produced by animation studio
Madhouse
.
Synopsis
Ex-soldier Juuzou Inui has one question—who turned him into a cyborg and erased his memories?
After the war, cyborg soldiers known as the Extended were discharged. Juzo Inui is one of them, a man whose body was transformed, his head replaced with a giant gun! With no memory of his previous life—or who replaced his head and why—Inui now scratches out a living in the dark streets of the city as a Resolver, taking on cases involving the Extended.
When a fellow Extended showed up in Inui's office—on the run from the Security Bureau with a kidnapped child in tow and asking for help—Inui should have just thrown the guy out. But Inui's loyalty to a brother Extended makes him take the job. Keeping the child safe won't be easy, since everyone seems to want to grab him, from street punks to the megacorporation Berühren, who have sent out a special agent that knows exactly how to deal with the Extended... (Source: VIZ Media)
Staff
Director:
Naoyuki Itou
(
Overlord
)
Series Composition:
Yukie Sugawara
(
Mahouka Koukou no Rettousei
script)
Character Design:
Masanori Shino
(
Gungrave
)
Music:
Kenji Kawai
(
Subete ga F ni Naru: The Perfect Insider
)
Karasuma initially launched the sci-fi action manga as a one-shot in August 2013 issue of the magazine, which was published again in the April and May 2014 issues. Ultra Jump began serializing the manga from its October 2014 issue. Shueisha published the eighth volume on Tuesday.
VIZ Media licensed the manga in English last month and plans to ship the first volume this September.
Official website:
http://nogunslife.com/
Source:
Comic Natalie
Update March 23
The Hakuhodo DY Music and Pictures booth at the AnimeJapan 2019 event revealed a teaser preview for the anime series on Saturday.
Source:
Ultra Jump
No Guns Life
on MAL

RSS Feed