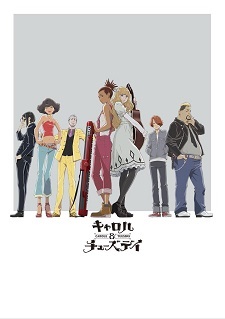 A press conference was held on Thursday for
Carole & Tuesday
TV anime has announced cast members and theme song performers. The opening theme song "Kiss Me" will be performed by singing voices of Carole and Tuesday, who are the winners of the 2018 global singers audition. There is no information yet about who will be performing ending theme song "Hold Me Now." The anime will air on Thursdays at 12:55 a.m. via Fuji TV's +Ultra timeslot, as well as Kansai TV, Toukai TV, TV Nishinippon, Hokkaido Bunka Housou, and BS Fuji starting April 11 for a total of two cours. Netflix will also stream the anime worldwide.
Cast
Carole (Talk / Singing):
Miyuri Shimabukuro
(
Hanebado!
) /
Nai Br.XX
Tuesday (Talk / Singing):
Kana Ichinose
(
Darling in the FranXX
) /
Celeina Ann
Gus:
Akio Ootsuka
(
Mob Psycho 100
series)
Roddy:
Miyu Irino
(
Kaze ga Tsuyoku Fuiteiru
)
Angela:
Sumire Uesaka
(
BanG Dream!
series)
Tao:
Hiroshi Kamiya
(
Monogatari
series)
Ertegun:
Mamoru Miyano
(
Zombieland Saga
)
PV
Source:
Comic Natalie

RSS Feed