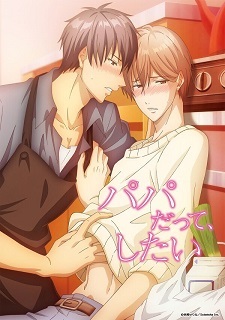 Comic Festa Anime Zone has held a press conference for the series' new work on Friday and announced that their new short anime series will be an adaptation of
Serina Seo
's
Papa datte, Shitai
manga. The anime will air via Tokyo MX on Mondays at 1:00 a.m. starting on January 7. The complete version will also begin streaming on Comic Festa Anime Zone the same day. The cast members for both the TV broadcast and Comic Festa Anime version are the same, and the cast member for Ryouhei Rui is still unknown.
Synopsis
"There are Times I Cannot Hold It, Even If I'm a Father"
University student Asumi came to Naruse household to be a housekeeper for his part-time job. The family consists of a single-father and a son Ichika. Among them, the father Naruse is too sexy for Asumi!! Even if he is not gay, Asumi gets conscious of Keiichi, and when he noticed that Keiichi is sexually unsatisfied by noticing him watching adult video in his room, he would unconsciously get tempted to attack him…! "Naruse-san, you're too sexy for a father with a child...!"
Staff
Director:
Mitsutaka Noshitani
(
Amai Choubatsu: Watashi wa Kanshu Senyou Pet
)
Script: Ayumu Saitou
Character Design: Taihei Nagai (
Urahara
animation director)
Sound Director:
Takahiro Enomoto
(
Bikini Warriors
)
Sound Production:
Magic Bus
Production Cooperation:
Picante Circus
Production:
Suiseisha
Cast
Kouya Asumi:
Masahiro Yamanaka
(
Zero no Tsukaima
series)
Keiichi Naruse:
Junta Terashima
(
Tsukipro The Animation
)
Ichika Naruse:
Nozomi Furuki
(
Gakuen Babysitters
)
Masahiro Yamanaka and Junta Terashima will be performing theme Song titled "Home sweet Home" as their respective characters.
An event to pre-screen all episodes, separating two versions into two different time, will be held on December 30, with Masahiro Yamanaka (Kouya Asumi) and Junta Terashima (Keiichi Naruse) to appear on the second part for a talk show.
Papa datte, Shitai
is a manga that serialized via Comic Festa since July 2017 for total of 16 chapters. Glanz BL Comics released the manga in physical volume since May 18, and second volume will be released on December 18.
Teaser
Official site:
https://papashita.cf-anime.com/
Official Twitter: @
CFAnime_BL
Source:
Comic Natalie
Papa datte, Shitai
on MAL

RSS Feed