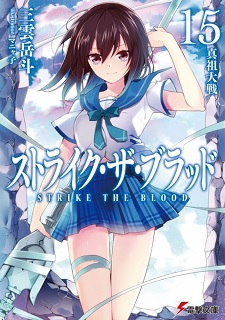 The wraparound jacket on the 15th volume of
Strike the Blood
has announced a new OVA series of the light novels. Author
Gakuto Mikumo
previously
announced
that the 15th volume marks the end of the current story, though the series will continue under a new title.
Strike the Blood
was previously adapted into a
TV anime
which aired over two quarters beginning Fall 2013. A two-episode
OVA series
with original content written by Mikumo was also released at the end of 2015. North American publisher Yen Press began releasing the light novel series in English in September 2015.
According to the official Twitter account of the anime adaptation, further information on the new OVAs will be made available in
Dengeki Bunko Magazine
and
Dengeki Daioh
. The 50th volume of Dengeki Bunko Magazine will go on sale on June 10, while the July 2016 issue of Dengeki Daioh will go on sale on May 27.
Source:
Official Twitter

RSS Feed