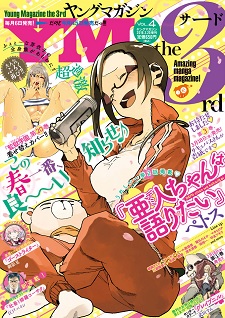 Editors of Kodansha's
Young Magazine the 3rd
have decided to end the standard industry practice of reader popularity questionnaires. The announcement was made in the April 2016 issue of the magazine, which goes on sale on March 5.
Questionnaires are often used by manga magazines to determine whether or not to continue publishing a series. Magazines usually operate at a deficit, recovering expenses instead through the surplus in sales of compiled volumes. Continuation of a series is decided with input from the editorial department and the questionnaire results, keeping in mind the objective of the editor-in-chief.
Mitsuhiro Muramatsu, deputy editor-in-chief of the magazine, said the decision to end questionnaires was made because sales of compiled manga volumes no longer match the questionnaire results. The magazine's editors will take advantage its
Twitter account
to gather reader impressions on the Internet, encouraging them to use hashtags to share their opinion.
"We will continue to explore various ways in the future," Muramatsu said. "The editors and authors are anticipating the results nervously, but I believe we can gather new data."
Young Magazine the 3rd began publishing in 2014 as a special issue of
Weekly Young Magazine
. It became a separate magazine with the first issue that September. Serialized works include
Demi-chan wa Kataritai
, which placed second in the
2nd Tsugi ni Kuru Manga Taisho
awards for upcoming manga, and
Kouji Kumeta
's comedy series
Nankuru Neesan
.
Source:
Mantan Web

RSS Feed