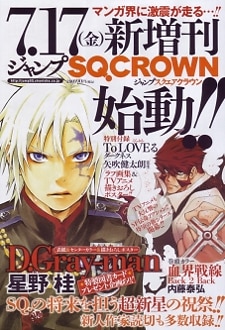 Scans of
Jump SQ
's upcoming issue have revealed more information about the first issue of its new spin-off, Jump SQ.Crown.
To be released on July 17, Jump SQ.Crown begins 5 months after another spin-off magazine, Jump SQ.19, ceased publication. First issuing quarterly and then every second month, Jump SQ.19 serialized one-shots and side-stories from Jump SQ main titles, along with original series such as
Kekkai Sensen
.
On hiatus since the magazine ended,
Kekkai Sensen
will resume in Jump SQ.Crown under the title
Kekkai Sensen: Back 2 Back
. The magazine will also include a new
D.Gray-man
story, with a colored opening page. An illustration of
D.Gray-man
will be featured on the front cover, and a poster will also be included. It is unknown how the chapter will be related to the series' main story.
Created by
Katsura Hoshino
,
D.Gray-man
began its serialization in Jump SQ magazine in 2004. However, the manga has been on hiatus regularly due to illnesses and injuries incurred by the mangaka, the last of which has continued since January 2013.
Source:
Yaraon
Update July 3
Jump SQ.Crown's
official site
has opened, announcing that not only will
D.Gray-man
receive one chapter, but it will be resuming serialization with
Kekkai Sensen
.

RSS Feed