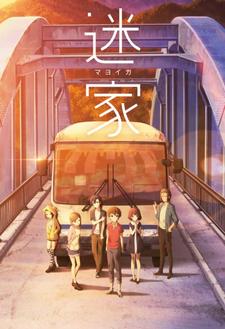 The official website for original TV anime
Mayoiga
announced that it will premiere exclusively on April 1 on WOWOW channel and later on April 9 on MBS and TBS. In addition, the site posted the cast and key visuals for the new characters. The ending theme song will be performed by Rina Katahira.
Cast
Mitsumune:
Koudai Sakai
(
Pupa
)
Masaki:
Yuuka Aisaka
(
Sakura Trick
)
Hayato:
Taku Yashiro
(
Kono Danshi, Mahou ga Oshigoto Desu.
)
Koharun:
Kaoru Sakura
Valkana:
Tatsuhisa Suzuki
(
Nanatsu no Taizai
)
Lion:
Hiromi Igarashi
(
Papa no Iukoto wo Kikinasai!
)
Synopsis
30 young men and women who came together on a shady bus tour. The tour's destination: an elusive and possibly non-existent village called Nanakimura. In Nanakimura, one can lead a utopian existence, free of the world's obstacles... or so it was rumored.
The bus headed deep into the mountains, carrying 30 people each harboring their own expectations and wounds in their hearts...
What they had arrived to was an uninhabited village with the lingering faint scents of life, even though it was falling apart.
Just what is the truth of Nanakimura? (Source: ANN, edited)
Source:
Moca News

RSS Feed