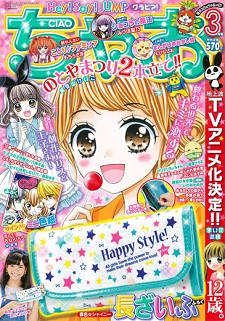 The March 2016 issue of
Ciao
magazine (cover pictured), which will go on sale on February 3, has announced that shoujo romance manga
12-sai.
will be receiving a TV anime adaptation.
The manga drawn by
Nao Maita
has been serialized since the September 2012 issue of the magazine. Shougakukan has published eight volumes of the manga. The series was previously adapted into an 8-episode
OVA series
in 2014, continuing with a
second season
in 2015.
OVA Cast
Hanabi Ayase:
Ai Kakuma
(
Amagi Brilliant Park
)
Yui Aoi:
Nanami Haruno
(
The iDOLM@STER Cinderella Girls 2nd Season
)
Yuuto Takao:
Soma Saito
(
Zankyou no Terror
)
Kazuma Hiyama:
Yuuichi Iguchi
(
Bokura wa Minna Kawaisou
)
Marin Ogura:
Mayuki Makiguchi
(
Pokemon XY
)
Kokoa Hamana:
Sayuri Hara
(
Pretty Rhythm: Aurora Dream
)
Ayumu Tsutsumi:
Tetsuya Kakihara
(
Fairy Tail
)
Inaba Mikami:
Atsushi Tamaru
(
Tamako Market
)
Source:
Otakomu
12-sai.: Chicchana Mune no Tokimeki
on MAL

RSS Feed