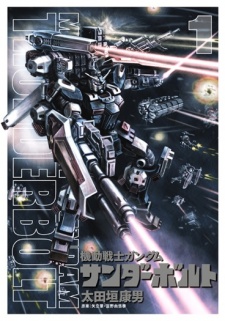 The wraparound jacket of the sixth volume of the
Mobile Suit Gundam Thunderbolt
manga, which will go on sale on October 30, has announced that the series will receive an anime adaptation. Animation studio
Sunrise
will adapt the work as with previous
Gundam
titles.
The series is drawn by
Yasuo Ohtagaki
and has been serialized in
Big Comic Superior
since March 2012.
Mobile Suit Gundam Thunderbolt
is a side story set in UC 0079 during the war between the Principality of Zeon and the Earth Federation.
In an
interview
with Comic Soon in 2014, Ohtagaki pointed out that Big Comic Superior is targeted at 30- to 40-year-old salarymen, so he has drawn
Thunderbolt
with these readers in mind, not specifically
Gundam
fans. He wanted to use the techniques and style of manga to convey the story, rather than simply adapting the
Gundam
anime, so as to not drive new readers away.
Synopsis
Federation troops and Zeon forces carry out a fierce battle in the Thunderbolt Sector in what was once Side 4 "Mua." The Thunderbolt Sector is a shoal zone composed of the debris of destroyed space colonies, named for the electrical discharges from the metal debris. MS pilot Io Flemming is among the Federation soldiers who are dispatched to the area, where Zeon sniper Daryl Lorenz awaits them on the battlefield. (Source: Gundam Wikia)
Official site:
http://www.gundam-tb.net/
Source:
Yaraon
Mobile Suit Gundam Thunderbolt
on MAL

RSS Feed