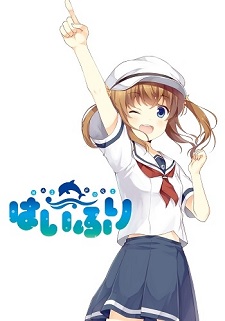 Aniplex has launched a website for a TV anime titled
Haifuri
, whose initial key visual is illustrated by
Non Non Biyori
mangaka
Atto
.
The October issue of
Comic Alive
magazine, which will be published on August 27, will reveal more information about the work. The magazine's September issue had teased an upcoming anime project in collaboration with Atto.
Official site:
http://www.hai-furi.com/
Source:
Anime! Anime!
,
Otakomu
Haifuri
on MAL
Update August 26
Comic Alive magazine revealed the main character and the setting of the show in its October issue. The name of the main character is Akeno Misaki, nicknamed Mike-chan. She is described as a cheerful and optimistic person, with "Any friend of the sea is family to me!" as one of her phrases. The issue also announced that the anime will receive a manga adaptation, which will also be serialized in Comic Alive. More information about the anime will be announced in the next issue.
Synopsis
With Japan having developed as a maritime nation, it became necessary to have specialized schools to teach skills essential to protecting the sea. The setting is one such all-girls school. The girls who enroll here study to become "bloomer maids," through classroom instruction and teaching of practical skills.
"Bloomer maids" are women who pursue the ocean for their professional occupation. They live by the motto "In the sea we live, the sea we protect, and by the sea we go." They must excel in their studies, but must also adopt an international mindset. They are the "Elite of the Sea," and are expected to be knowledgeable of the customs and cultures of other countries as well as their own. (Source: ANN)
Source:
Yaraon

RSS Feed