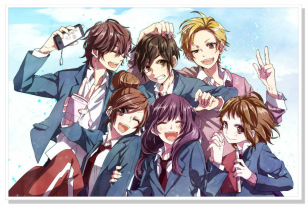 The official site for
HoneyWorks
announced today that
Kokuhaku Jikkou Iinkai: Renai Series
(
Confession Executive Committee ~Love Series~
) will be getting an animated movie to premiere in Spring 2016.
Cast
Akari Hayasaka:
Kana Asumi
(
Haiyore! Nyaruko-san
)
Haruki Serizawa:
Kenichi Suzumura
(
Kara no Kyoukai
)
Mio Aida:
Aki Toyosaki
(
K-On!
)
Natsuki Enomoto:
Haruka Tomatsu
(
Sword Art Online
)
Souta Mochizuki:
Yuuki Kaji
(
Shingeki no Kyojin
)
Yuu Setoguchi:
Hiroshi Kamiya
(
Durarara!!
)
Kokuhaku Jikkou Iinkai: Renai Series
is a series that HoneyWorks created initially for Vocaloid songs. Later, many seiyuus such as Yuuki Kaji, Kenichi Suzumura, Tsubasa Yonaga, Hiroshi Kamiya, Haruka Tomatsu, etc. voiced the characters, which HoneyWorks used to create the songs and first cover album, titled
Zutto Mae kara Suki deshita.
, which was released on January 29, 2014. A second album, titled
Boku ja Dame Desuka?
, was later released on November 26, 2014, featuring more characters, and a third album, titled
Suki ni Naru Sono Shunkan wo.
, was released on July 15, 2015. All of the albums also included drama tracks and an animation DVD, along with the cover songs.
Official site:
http://www.honeyworks-movie.jp/
Source:
Official tweet
Kokuhaku Jikkou Iinkai: Renai Series
on MAL

RSS Feed