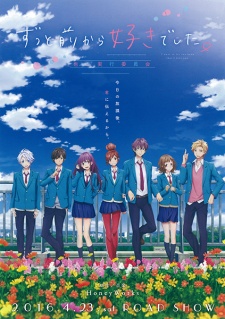 The official Twitter account of Gom of
HoneyWorks
has announced that the
Kokuhaku Jikkou Iinkai
project will get a TV anime special. The tweet does not explicitly state whether it will be a TV broadcast remake or a TV screening of the movie. More information regarding the anime special will be announced at a later date.
Kokuhaku Jikkou Iinkai
is a series initially created by HoneyWorks for Vocaloid songs. Later, many seiyuus such as
Yuki Kaji
,
Kenichi Suzumura
,
Tsubasa Yonaga
,
Hiroshi Kamiya
,
Haruka Tomatsu
, etc. voiced the characters, which HoneyWorks used to create the songs and first cover album, titled
Zutto Mae kara Suki deshita.
, released in January 2014. A second album titled
Boku ja Dame Desuka?
was released in November 2014 featuring more characters, and a third album titled
Suki ni Naru Sono Shunkan wo.
was released in July 2015, followed by a fourth album titled
Nando Datte, Suki. ~Kokuhaku Jikkou Iinkai~
in February 2017. All of the albums also included drama tracks and an animation DVD, along with the cover songs.
Two
movies
based on first and third albums premiered in April and December 2016, respectively.
Source:
Otakomu

RSS Feed