Shoujo magazine
Ribon
's recent issue has announced that both
Kodomo no Omocha
and
Tokimeki Tonight
will get new one-shots in celebration of the magazine's 60th anniversary. Intended to give thanks to the magazine's fans, the new one-shots will be released in Ribon's September issue, to be published on August 3.
Kodomo no Omocha
, often shortened as
Kodocha
, is a shoujo manga by
Miho Obana
. It was serialized in Ribon magazine from 1994 to 1998, completing with ten volumes when it ended 17 years ago.
Kodomo no Omocha
won the 1998 Kodansha Manga Award in the shoujo category.
Synopsis
Sana Kurata, a child actress, faces many problems in her classroom, including a major one - her bullying classmate, Akito Hayama. Sana's outgoing and friendly nature leads her to work towards correcting all of the problems around her. Her 'meddling' irritates Hayama but at the same time captivates him, just as Hayama's gloomy nature irritates Sana and compels her to change him. As these two opposites attract each other, they face many hardships which bring them closer to a mutual understanding. (Source: ANN)
Miho Obana also wrote a crossover, titled
Deep Clear
, of
Kodocha
and her other work
Honey Bitter
. She also wrote a 2-chapter spin-off of the original manga, titled
Mizu no Yakata
, a story about a boy and the ghost of his brother's girlfriend who haunts them.
Kodomo no Omocha
initially received a
30-minute OVA adaptation
in December 1995 which covered the first volume of the manga. It was then followed by a 102-episode
TV anime
which ran from April 1996 to March 1998.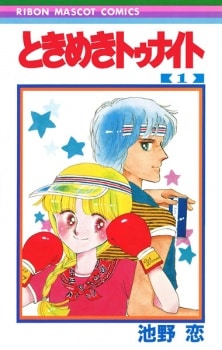 Tokimeki Tonight
is a shoujo manga by
Koi Ikeno
. Shueisha published thirty volumes of the manga during its original run in Ribon magazine from 1982 to 1994. Ikeno concluded the series in its 31st volume, titled
Tokimeki Tonight: Hoshi no Yukue
.
Tokimeki Tonight
was the sixth best selling shoujo manga in 2006 when it sold
28 million copies
.
Synopsis
This is a long, epic manga that spans three generations of the Etou family. The first part is about Ranze, a relatively normal high school girl, except for the fact that her father is a vampire, her mother is a werewolf, and that she has magical powers of her own. Her family was banished from the Magic World to live among the humans, and they now guard the gate between the two realms. The story really begin when Ranze falls for a human boy, which her parents strictly forbid. Later story arcs focus on Ranze's brother and on Ranze's daughter. (Source: ANN)
Two spin-off series, titled
Tokimeki Midnight
and
Tokimeki Tonight: Makabe Shun no Jijou
, were launched by Ikeno in 2002 and 2013 respectively.
Tokimeki Midnight
is an alternate retelling of the manga where the roles are reversed. It ended in 2009 with 9 volumes.
A
TV anime series
based on
Tokimeki Tonight
ran from October 1982 to September 1983. It completed at 34 episodes with an original anime ending, since it would be another 11 years before the manga was completed.
Source:
Mantan Web
(Kodomo no Omocha),
Mantan Web
(Tokimeki Tonight)

RSS Feed