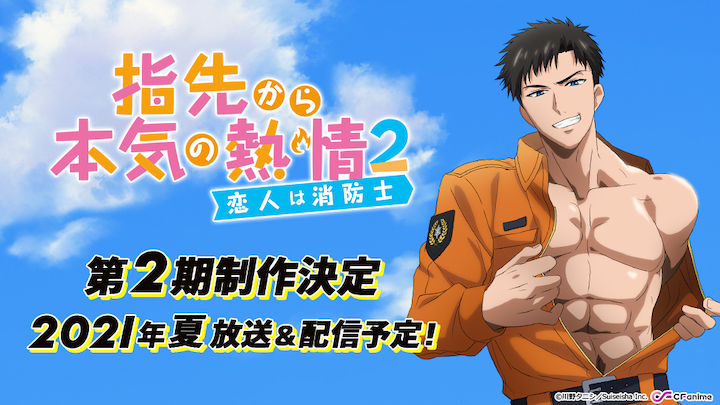 A second anime season for
Tanishi Kawano
's
Yubisaki Kara Honki no Netsujou: Charao Shouboushi wa Massugu na Me de Watashi wo Daita
web manga was announced by Comic Festa Anime Zone on Monday. The anime will air censored on television, with a "complete version" available on the Comic Festa Anime Zone app on the same day the anime airs. The anime, titled
Yubisaki kara no Honki no Netsujou 2: Koibito wa Shouboushi
(
Fire in His Fingertips 2: My Lover is a Firefighter
), is set to broadcast in Summer 2021.
Synopsis
Following the first season, Ryou and Souma—who revealed their feelings for each other—have finally started dating. When they thought their hearts and bodies were more deeply connected during their lovey dovey days, her ex-boyfriend Rei came to where they work. The three are reminded of their school days when their feelings grew apart. Ryou doesn't want to get involved, but he ends up teaming up with Rei.
Kento Itou
(
Kyojin-zoku no Hanayome
),
Natsumi Takamori
(
Dokyuu Hentai HxEros
),
Tomohito Takatsuka
(
Plunderer
), and
Wataru Komada
(
Fruit Basket 2nd Season
) will be reprising their roles as Souma Mizuno, Ryou Fujihashi, Yuuki Izumi, and Jun Hase, respectively in the on-air version. Margarine Tengu, Ion Momoyama, Ii Kinniku, and Yuu Asagi will voice the aforementioned characters in the complete version.
Kawano has published the adult josei manga online under Scream's Zetta Ryouiki R! label since September 2018. Suiseisha has released four compiled volumes to date under the Clair TL Comics imprint. Seven Seas Entertainment began publishing the manga in English as
Fire in His Fingertips: A Flirty Fireman Ravishes Me with His Smoldering Gaze
under its adult-oriented Ghost Ship imprint in
March
of last year, and published the second volume last
November
.
Studio Hokiboshi
produced the
first anime season
, which was broadcast for 8 short episodes between July and September in 2019.
Source:
animate Times

RSS Feed