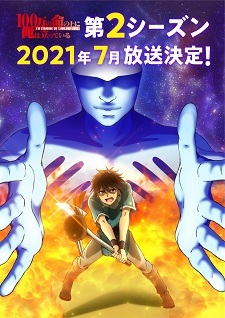 The 12th and final episode of the
100-man no Inochi no Ue ni Ore wa Tatteiru
(
I'm Standing on a Million Lives
) television anime ended with a second season announcement on Friday. The official website also revealed a teaser visual (pictured) and an announcement promo. The second season will begin airing in July 2021.
Directed by
Kumiko Habara
(
Angolmois: Genkou Kassenki
assistant director) and scripted by
Takao Yoshioka
(
Shichisei no Subaru
) at
Maho Film
, the anime series debuted on October 2. Crunchyroll simulcast the anime as it aired in Japan.
100-man no Inochi no Ue ni Ore wa Tatteiru
adapts
Naoki Yamakawa
and
Akinari Nao
's
fantasy action manga
, which has been serialized in
Bessatsu Shounen Magazine
since June 2016. Kodansha published the 11th volume on December 9. The manga has a cumulative 1.6 million copies of its volumes in print.
Kodansha Comics licensed the manga in English last June for both digital and physical release. The ninth volume was released digitally on July 14, with a physical release planned for January 19, 2021.
Synopsis
Ninth grader Yusuke Yotsuya is practical, friendless, and not active in any clubs. Then one day, he and two female classmates are suddenly sent to another world where they must work together to battle for their lives. Yotsuya is a lone wolf and has always lived his life according to his wants, but how will that work out now that he's supposed to be a hero?! (Source: Kodansha Comics)
Announcement
Official site:
http://1000000-lives.com/
Official Twitter: @
1000000_lives
Source:
animate Times
100-man no Inochi no Ue ni Ore wa Tatteiru 2nd Season
on MAL

RSS Feed