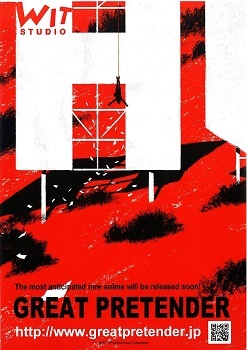 An original anime series titled
Great Pretender
was announced at the
Wit Studio
featuring Ani-Sta panel at Anime Expo on Thursday. The 23-episode anime series is scheduled for a 2020 debut.
Staff
Director:
Hiro Kaburagi
(
91 Days
)
Script:
Ryouta Kosawa
(
Confidence Man JP
live-action drama)
Character Design:
Yoshiyuki Sadamoto
(
Neon Genesis Evangelion
)
Music:
Yutaka Yamada
(
Tokyo Ghoul
)
Producer:
Maiko Okada
(
Koi wa Ameagari no You ni
)
The first episode of the anime series was also screened during the panel. An official website opened simultaneously with the text "Coming July 6."
Wit Studio's most recent work, the third season of
Shingeki no Kyojin
, ended on Monday. The studio is producing a
television anime adaptation
of the award-winning manga
Vinland Saga
, which begins airing on July 8. Wit Studio also has two anime projects titled
Moonrise
and
Vampire in the Garden
in production.
Ani-Sta is a "real animation" event sponsored by Wit Studio, which aims to connect the fans, studios, and the future creators. This marks the first time the event was held outside of Japan.
Official site:
http://www.greatpretender.jp/
Official Twitter: @
GrePre_anime
Source: Wit Studio's Ani-Sta Panel at Anime Expo
Update July 6
The official website of the anime series updated on Saturday, revealing the story and broadcast station. The original television anime will air on Fuji TV's +Ultra programming block.
Synopsis
Only BADs are our targets! Trick you! Deceive you! Cheat all fortunes of you! You can hear our stories in LA, Singapore, London, Shanghai and Tokyo, Why? Our "CON GAMEs" stage, is the whole WORLD!!
Masato Edamura is supposedly Japan's greatest swindler. Together with his partner Kudo, they try to trick a Frenchman in Asakusa but unexpectedly get tricked instead. The Frenchman, whom they tried to swindle, turns out to be Laurent Thierry—a much higher-level "confidence man," in control of the mafia. Edamura is yet to find out what fate awaits him, after having engaged in the Frenchman's dirty jobs...!
Source:
Fuji TV
Great Pretender
on MAL

RSS Feed