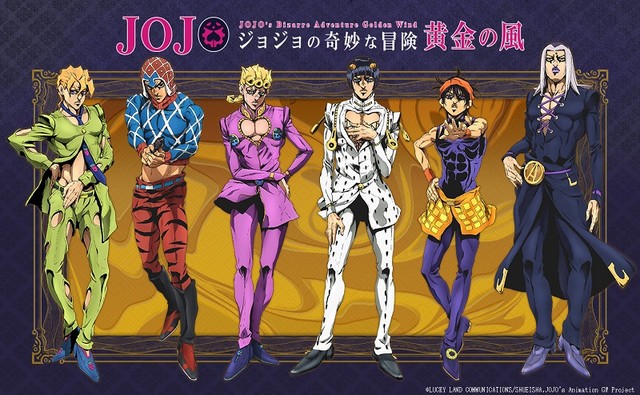 On June 21, a press conference for the upcoming exhibition of
Hirohiko Araki
's
JoJo no Kimyou na Bouken
(
JoJo's Bizarre Adventure
) manga announced that the fifth part of the series,
Ougon no Kaze
(
Golden Wind
), is being adapted into a TV anime to air beginning in October 2018.
JoJo no Kimyou na Bouken Part 5: Ougon no Kaze
was serialized in
Weekly Shounen Jump
magazine between 1995 and 1999 and has been compiled into 17 volumes by Shueisha. The first four parts of the series were also adapted into television anime with the most recent,
Diamond wa Kudakenai
(
Diamond is Unbreakable
), airing in 2016.
Cast members for the series were announced at an advance screening of the anime's first episode on July 5 at the Italian Institute of Culture in Tokyo. The first episode was simultaneously screened at Japan Expo 2018 in Paris as the international premiere of the series. Anime Expo 2018 in Los Angeles will host the U.S. screening of the episode on July 7.
Hirohiko Araki JoJo Exhibition: Ripples of Adventure
opens on August 24 at the National Art Center in Tokyo and will run through October 1.
Synopsis
Naples, 2001. Giorno Giovanna is a small-time crook with one big dream—to become a "Gang-Star." No ordinary thief, Giorno has a connection to the remarkable Joestar bloodline, and possesses a Stand named Gold Experience. His dream starts to become reality when he meets Bruno Buccellati, a mobster from the gang Passione and a fellow Stand user himself. Realizing that they share similar ideals, and both disagree with the gang's harmful affairs, Giorno reveals his goal to Bruno: with Bruno's help, he will reform Passione by overthrowing the boss.
As Giorno becomes a member of Passione, and is inducted into Bruno's squad, he discovers that it is no simple gang; its numbers are teeming with Stand users. Now confronted by other squads of differing loyalties and unpredictable caliber, their goal to change the gang from the inside out will be a tough one. Taking on these adversaries, Giorno attempts to rise through the ranks and inch closer to the boss, a man who is shrouded in mystery. [Written by MAL Rewrite]
Cast
Giorno Giovanna:
Kensho Ono
(
Owari no Seraph
)
Bruno Buccellati:
Yuuichi Nakamura
(
Drifters
)
Pannacotta Fugo:
Junya Enoki
(
Katsugeki/Touken Ranbu
)
Narancia Ghirga:
Daiki Yamashita
(
Boku no Hero Academia
)
Guido Mista:
Kousuke Toriumi
(
Pandora Hearts
)
Leone Abbacchio
Junichi Suwabe
(
Yuri!!! on Ice
)
Staff
Chief Director:
Naokatsu Tsuda
(
JoJo no Kimyou na Bouken: Diamond wa Kudakenai
)
Director:
Yasuhiro Kimura
(
Sansha Sanyou
),
Hideya Takahashi
(
Keijo!!!!!!!!
)
Series Composition:
Yasuko Kobayashi
(
JoJo no Kimyou na Bouken: Stardust Crusaders
)
Character Design:
Takahiro Kishida
(
Durarara!!
)
Chief Animation Director:
Shunichi Ishimoto
(
Kishibe Rohan wa Ugokanai: Mutsukabezaka
character design)
Stand Design, Action Animation Director: Takahito Katayama (
Mahoutsukai no Yome
animation director)
Prop Design: Yukitoshi Houtani (
Asura
character design)
Art Setting: Reiki Taki,
Junko Nagasawa
(
Oushitsu Kyoushi Heine
art director), Kaoru Aoki (
Hinamatsuri
art setting)
Color Design:
Yuuko Satou
(
Gunslinger Girl: Il Teatrino
)
Art Director:
Shunichirou Yoshihara
(
Koutetsujou no Kabaneri
), Megumi Katou (
Blend S
)
Director of Photography:
Kazuhiro Yamada
(
Shingeki no Kyojin
)
Editing:
Kiyoshi Hirose
(
Planetarian: Chiisana Hoshi no Yume
)
Sound Director:
Yoshikazu Iwanami
(
Fate/stay night: Unlimited Blade Works
)
Music:
Yugo Kanno
(
Ajin
)
Studio:
David Production
Source:
Comic Natalie 1
,
Comic Natalie 2
JoJo no Kimyou na Bouken: Ougon no Kaze
on MAL

RSS Feed