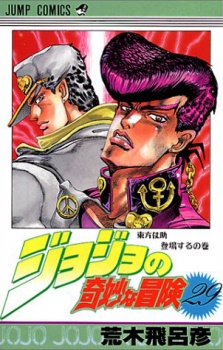 A new trailer posted on the official site of the series revealed that
JoJo no Kimyou na Bouken Part 4: Diamond wa Kudakenai
(
JoJo's Bizarre Adventure Part 4: Diamond Is Unbreakable
) will be receiving a TV anime adaptation. More information will be announced at a later time.
The manga, which is both written and illustrated by
Hirohiko Araki
, was originally serialized in Weekly Shounen Jump for 18 volumes between the period of April 14, 1992 and November 21, 1995. The
Jojo's Bizarre Adventure
franchise has previously received
multiple OVA and TV anime adaptations
, with the most recent one being
JoJo no Kimyou na Bouken: Stardust Crusaders 2nd Season
which premiered on January 10, 2015 and ended on June 20 of the same year.
Synopsis
The fourth story arc of JoJo no Kimyou na Bouken series. The coastal town of Morioh is plagued by the "Bow and Arrow," an ancient artifact which manifests latent stand abilities in criminals and ordinary folk alike. At the same time as they are dealing with the huge influx of stand users—both good and bad—in Morioh, high schooler Jousuke Higashikata and his friends are searching for the culprit of a series of homicides. (Source: Kokko)
Trailer:
Source:
Official site
JoJo no Kimyou na Bouken: Diamond wa Kudakenai
on MAL

RSS Feed