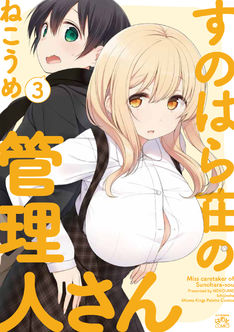 A promotional video for
Sunoharasou no Kanrinin-san
's third compiled volume, which will ship on November 22, has been released and announced that the 4-koma manga series will get a TV anime.
Synopsis
Aki Shiina is constantly being treated like a girl due to his feminine looks so he decides to move to Tokyo to attend middle school in an attempt to change himself.
However what awaits him in his new home, Sunohara-sou, is the kind-hearted caretaker, Ayaka Sunohara. Along with the three female members of Aki's new middle school's student council, Yuzu Yukimoto, Sumire Yamanashi & Yuri Kazami.
And so begins Aki's new life in Tokyo living with four girls. (Source: MAL, Edited)
Drama CD Cast
Ayaka Sunohara:
Rina Satou
(
Bishoujo Senshi Sailor Moon Crystal
)
Aki Shiina:
Eri Kitamura
(
Ao Oni: The Animation
)
Nana Sunohara:
Ayane Sakura
(
Ballroom e Youkoso
)
Sunoharasou no Kanrinin-san
is a slice of life 4-koma manga drawn by
Nekoume
and has been serialized in
Manga 4-koma Palette
since May 2014. Two compiled volumes have been released so far, with second volume including a drama CD featuring the same cast members in the video.
Announcement
Source:
Comic Natalie

RSS Feed