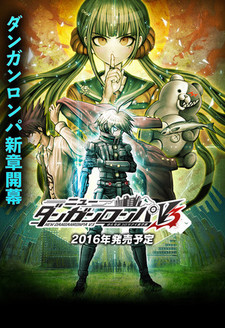 Gaming magazine Famitsu has announced that there will be a new original anime titled
Super Danganronpa 2.5: Nagito Komaeda to Sekai no Houkaisha
included with the Choukoukoukyuu no Gentei Box edition of the upcoming game
New Danganronpa V3: Minna no Koroshiai Shingakki
, which will be released on January 12, 2017. The original anime, as the title suggested, is focused around Nagito Komaeda as the main character instead of Makoto Naegi and Hajime Hinata.
Danganronpa
is a suspense detective game developed by Spike Chunsoft. It has received various stage and anime adaptations, with
Danganronpa 3: The End of Kibougamine Gakuen
as the latest anime adaptation, with two arcs and a conclusive special
Kibou-hen
, which aired in Summer 2016.
CM
Source:
Ota☆Suke
Super Danganronpa 2.5: Komaeda Nagito to Sekai no Hakaimono
on MAL

RSS Feed