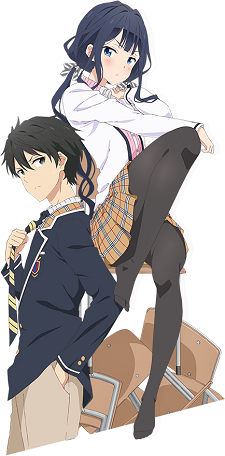 The cover of this year's August issue of
Comic REX
, which will be out on June 27, 2016, will be revealing that manga
Masamune-kun no Revenge
(
Masamune-kun's Revenge
) will get a TV anime adaptation. The official website for the TV anime has also been launched.
Synopsis
As a child, Masamune Makabe once suffered greatly at the hands of a wealthy and beautiful girl named Aki Adagaki, who nicknamed him "Piggy" due to his chubby appearance. Seeking revenge against his tormentor, Masamune works hard to improve himself and returns as an incredibly handsome, albeit narcissistic, high school student. When he encounters Aki once again, he is prepared to exact vengeance.
With the aid of the rich girl's maid, Yoshino Koiwai, Masamune slowly begins to build his relationship with Aki, intending to break her heart when the time is right. However, as his friendship with Aki begins to grow, Masamune starts to question the objectives of his devious plans, and if bringing them to fruition is what his heart truly desires.
The series is written by
Hazuki Takeoka
and drawn by
Piv
. It currently has six volumes published, with the 7th volume schedule to ship in Japan on June 27. The series has been publishing in English as
Masamune-kun's Revenge
by Seven Seas Entertainment since June 14, 2016.
Official site:
http://masamune-tv.com/
Source:
Otakomu
Masamune-kun no Revenge
on MAL

RSS Feed