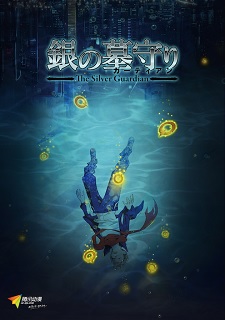 Shanghai-based animation studio
Haoliners Animation League
announced in a press release today that its Japanese subsidiary Emon, which was established in October 2015, will produce a TV anime titled
Gin no Guardian
(
The Silver Guardian
) for broadcast in 2017.
Gin no Guardian
adapts the adventure web manhua
Yin Zhi Shou Mu Ren
by Ling Meng, which is publishing on the online portal QQ.com. Haoliners reports that the manhua has over 400 million page views as of March 1. A promotional video will be unveiled during AnimeJapan 2016.
Synopsis
Lu Shuiyin (Riku Suigin in Japanese) is a master of gaming, a skill only known to his classmate Lu Lian (Riku Lin in Japanese). One day, Shuiyin receives a device from Lu Lian for a tomb raiding online game. While Shuiyin is excited to receive the device, Lian is suddenly kidnapped. Shuiyin touches the device that was left behind, pulling him inside the game and trapping him there. What is the imaginary world inside the device? What will Shuiyin find there?
It is a world where two groups of people fight over the power of the gods, which originates from the tomb the mother goddess Pangu (Bango in Japanese). The two groups are the tomb raiders and the tomb protectors. The device Shuiyin received from Lian is called the Monolith, and it allows a normal gamer to go near the tomb. The tomb raiding group plans its attack by recruiting common people in the name of gaming. Shuiyin, as the final tomb protector, must fight against the raiders in order to save Lian.
Staff
Chief Director:
Masahiko Ookura
(
Blue Drop: Tenshi-tachi no Gikyoku
)
Director, Episode Director:
Ken Andou
(
Kareshi Kanojo no Jijou
)
Series Composition:
Yuuji Hosono
(
Prism Ark
)
Script, Design Works:
Hidefumi Kimura
(
Kiddy Grade
)
Character Design:
Yuuichi Tanaka
(
Toaru Majutsu no Index
)
Producer: Shouji Murahama (
Ao no 6-gou
)
Studio:
Emon
Source:
Kai-You

RSS Feed