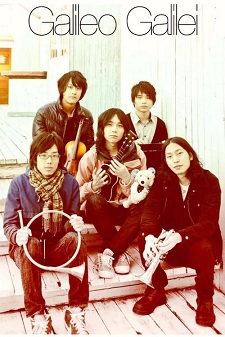 Galileo Galilei
, the rock band originating from Hokkaido which has contributed a number of anime theme songs, has announced that it will end its activities this spring. The band was formed in 2007 by brothers Yuuki and Kazuki Ozaki and childhood friend Hitoshi Sakou.
In a statement posted on the band's official website, the members liken the band to a toy cart they were fond of riding when they were children. However, because that toy cart cannot venture out from the garden into the streets, they have decided to leave it behind.
The original members of Galileo Galilei, including a fourth member Souhei Furuya, were raised in the city of Wakkanai in Hokkaido. In August 2008, the band received the Grand Prix award at the inaugural Senkou Riot teenage rock festival organized by Tokyo FM and Sony Music. Later that month, Furuya left the band to pursue other passions and was replaced by guitarist Fumito Iwai.
After returning as guest performers at the second and third Senkou Riot festivals, Galileo Galilei was signed by Sony Music. The band's 2010 major debut mini album,
Hamanasu no Hana
, peaked at 14th place on the Oricon weekly album sales rankings. Later that year, their first single "Natsuzora" was used as the opening theme song of
Ookiku Furikabutte: Natsu no Taikai Hen
.
In 2011, their fourth single "Aoi Shiori" was used as the opening theme song of
Ano Hi Mita Hana no Namae wo Bokutachi wa Mada Shiranai.
, eventually selling 28,000 copies and becoming their only single to enter the top ten of Oricon's weekly single rankings. Later that year, pianist Kazumasa Noguchi joined the band as a fifth member.
Their sudden success caught the band's members by surprise. They went on to perform theme songs for
Mobile Suit Gundam AGE
(2011),
Magic Kaito 1412
(2014),
Taifuu no Noruda
(2015), and
Haikyuu!! Second Season
(2015). Iwai and Noguchi left the band in 2012.
Galileo Galilei's fourth and final album,
Sea and The Darkness
, will go on sale on January 27, 2016. The band will go on a 19-stop nationwide tour in March and April before ending its activities. The members wrote "nothing has been decided" on what they will do after that but are hopeful that there will be good news.
Source:
Official website
,
Music Natalie

RSS Feed