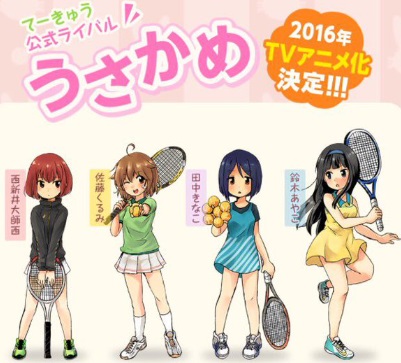 It was announced at Comiket 89 that manga
Usakame
will receive a TV anime adaptation in Spring 2016.
Earth Star Dream
will voice the main characters.
Cast
Kinako Tanaka: Yuki Nakashima
Kurumi Satou: Hikaru Koide
Ayako Suzuki: Izumi Araida
Nishi Nishiwaraidaishi: Maria Tanijiri
Tasuku Furubira:
Kanon Takao
Miyako Baba:
Eri Sogabe
Hoheto Irohani: Arisa Aihara
Staff
Director
Shin Itagaki
(
Teekyuu
)
Studio:
Millepensee
Usakame
is a manga serialized in
Comic Earth☆Star
and is considered the official rival to
Teekyuu
. The series is written by
Tsugeo Terada
(Roots) and drawn by Juuzou Kirisawa, with original character designs by
Piyo
. The first volume was released on December 12.
Tsugeo Terada also wrote the story for
Teekyuu
, which will receive a seventh anime adaptation premiering on January 11.
Source:
Official site
Usakame
on MAL

RSS Feed