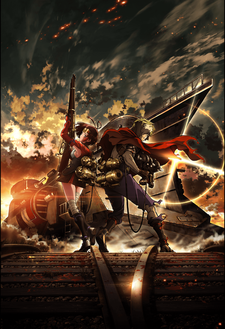 The official site of the TV anime
Koutetsujou no Kabaneri
(
Kabaneri of the Iron Fortress
) opened today and revealed cast members and additional staff members, as well as a key visual (pictured right). The site also revealed that the series is expected to premiere in Spring 2016. The prologue to
Kotetsujou no Kabaneri
was also announced to premiere in selected movie theaters on March 18, 2016, and will be available for a week. A pre-screening event with the cast members will be held on March 19, 2016.
Synopsis
As the world is in the middle of an industrial revolution, a monster appears that cannot be defeated unless its heart, which is protected by a layer of iron, is pierced. By infecting humans with its bite, the monster can create aggressive and undead creatures known as Kabane. On the island Hinomoto, located in the far east, people have built stations to shelter themselves from these creatures. People access the station, as well as transport wares between them, with the help of a locomotive running on steam, called Hayajiro. Ikoma, a boy who lives in the Aragane station and helps to build Hayajiro, creates his own weapon called Tsuranukizutsu in order to defeat the creatures. One day, as he waits for an opportunity to use his weapon, he meets a girl named Mumei, who is excused from the mandatory Kabane inspection. During the night, Ikuma meets Mumei again as he sees Hayajiro going out of control. The staff on the locomotive have turned into the creatures. The station, now under attack by Kabane, is the opportunity Ikoma has been looking for.
Cast
Mumei:
Sayaka Senbonki
(
Juuou Mujin no Fafnir
)
Ikoma:
Tasuku Hatanaka
(
Ushio to Tora
) (TV)
Ayame:
Maaya Uchida
(
Noragami Aragato
)
Kurusu:
Toshiki Masuda
(
Yamada-kun to 7-nin no Majo
) (TV)
Takumi:
Yuki Kaji
(
Shingeki no Kyojin
Kajika:
Kanae Oki
(
Arcana Famiglia
)
Yukina:
Mariya Ise
(
Hunter x Hunter
(2011))
Sukari:
Ryota Osaka
(
Akagami no Shirayuki-hime
)
Kibito:
Kensuke Satou
(
Chihayafuru
)
Mima:
Mamoru Miyano
(
Ajin
)
Staff
Director:
Tetsurou Araki
(
Shingeki no Kyojin
)
Series Composition, Script:
Ichiro Okouchi
(
Kakumeiki Valvrave
)
Original Character Design:
Haruhiko Mikimoto
(
Nessa no Haou Gandalla
)
Character Design, General Art Director: Yasuyuki Ebara
Music:
Hiroyuki Sawano
(
Kill la Kill
)
Script: Kouji Seko
Assistant Director:
Hiroyuki Tanaka
(
Guilty Crown
)
Setting: Junpei Kasaoka
Background Art:
Kiyomune Miwa
Concept Art, Design: You Moriyama
Design: Ippei Gyoubu
Original Concept: Shirou Yoshida
Mechanical Design:
Shinobu Tsuneki
(
Ghost in the Shell: Stand Alone Complex
)
Art Setting: Yuuho Taniuchi, Kaoru Aoki,
Yoshihiro Sono
Assistant Design: Shingo Tamagawa
Chief Animation Director: Hiroki Marufuji,
Kyoji Asano
(
Psycho-pass
)
Action Art Director: Tatsurou Kawano, Yuuko Sera
Key Animation: Kyouhei Tezuka
Visual Effect: Sachiko Matsumoto
Art Director: Junichirou Yoshihara
Color Design: Kei Hashimoto
Director of Photography:
Kazuhiro Yamada
(
Kokoro Connect
)
CG Director: Shuuhei Yabuta
Sound Director:
Masafumi Mima
(
Show By Rock!!
)
Sound Effects:
Shizuo Kurahashi
(
Soul Eater
)
Editing:
Aya Hida
(
Death Note
)
Studio:
Wit Studio
PV:
Official site:
http://kabaneri.com/
Source:
Moca News
News submitted by
Hongu

RSS Feed