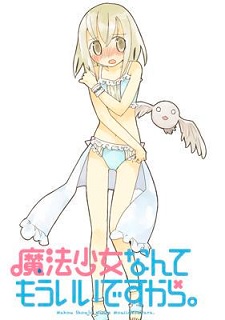 Studio Pine Jam is announcing via the November issue of Animage magazine, to be released on October 10, that the comedy manga series
Mahou Shoujo nante Mou Ii desu kara.
will receive an anime adaptation.
The series is written and illustrated by
Sui Futami
and has been serialized in the digital edition of
Comic Earth☆Star
magazine since March 2015. There are currently fifteen chapters available online.
Synopsis
The story revolves around Yuzuka Hanami, who is approached by a mysterious creature that tells her she has the makings of becoming a magical girl. However, Yuzuka's magical form has her wearing a swimsuit!
Source:
Yaraon
Mahou Shoujo Nante Mou Ii Desukara.
on MAL
Update October 15
An official website has opened for the anime adaptation of
Mahou Shoujo nante Mou Ii desu kara.
with an announcement of the main staff members. The series will air on TV in fiscal year 2016.
Staff
Director:
Kazuhiro Yoneda
(
Akatsuki no Yona
)
Series Composition:
Kazuyuki Fudeyasu
(
Monster Musume no Iru Nichijou
)
Script: Kazuyuki Fudeyasu,
Momoko Murakami
(
Onsen Yousei Hakone-chan
)
Character Design, Chief Animation Director:
Kazuaki Shimada
(
Hoshizora e Kakaru Hashi
)
Sound Director:
Yukio Nagasaki
(
Pretty Rhythm: Aurora Dream
)
Music:
Masato Nakayama
(
Tonari no Kaibutsu-kun
)
Official site:
http://www.mouiidesukara.com/
Source:
Moca News

RSS Feed