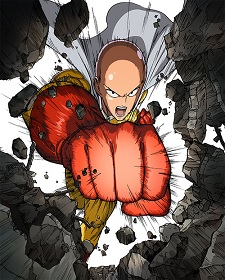 The official website of the
One Punch Man
TV series, which began airing on October 5, revealed that the first Blu-ray and DVD volume (cover design pictured) will contain an original anime. That volume will also contain the first two episodes of the series.
The bundled anime, titled
Shinobiyori Sugiru Kage
, is an original story written by mangaka
ONE
. The first Blu-ray and DVD volume will be released on December 24, 2015. Online retailer Amazon.co.jp lists six Blu-ray and DVD volumes in total for the series, but it is not yet known if the remaining five volumes will also contain additional original anime.
The Blu-rays and DVDs will also contain the live-action variety shorts
One Punch☆Hamidashi Gekijou
, which are aired alongside each episode of the series on Niconico. A CD containing a mini audio drama and character songs is also part of the bonus materials.
Source:
Ota☆Suke

RSS Feed