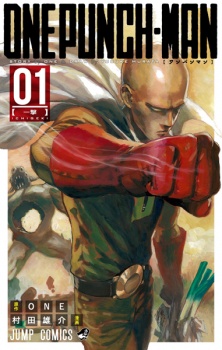 A scan of the latest issue of
Weekly Young Jump
magazine, officially releasing Thursday March 12, revealed that
One
and
Yusuke Murata
's manga
One Punch-Man
will get a TV anime adaptation. A promotional video, which will be presented at Bandai Visual's booth at the Anime Japan 2015 event on March 21-22, will announce the cast and staff members for the TV series. According to One, Yusuke Murata is also participating in the anime production.
One began serializing the webcomic
One Punch-Man
on his own website in 2009. Yusuke Murata collaborated with One to remake the webcomic into a manga series in 2012 which is serialized in the online version of Weekly Young Jump.
The manga follows Saitama, an average-looking fellow with a bald head and lifeless expressions, who is actually a superhero and bored of battling weak opponents. He embarks on a journey to find a worthy opponent that can withstand his one-punch fighting technique.
Source:
Scan via ANN
One Punch Man
on MAL
Update March 20
A scan revealed the main cast, staff members, and studio for
One Punch Man
. The TV series will air in October 2015.
Cast
Saitama:
Makoto Furukawa
(
Golden Time
)
Genos:
Kaito Ishikawa
(
Suisei no Gargantia
)
Staff
Director:
Shingo Natsume
(
Space☆Dandy
)
Studio:
Madhouse
(
Kiseijuu: Sei no Kakuritsu
)
Script: Tomohiro Suzuki
Character design:
Chikashi Kubota
(
Shinsekai yori
)
Source:
Scan via ANN

RSS Feed