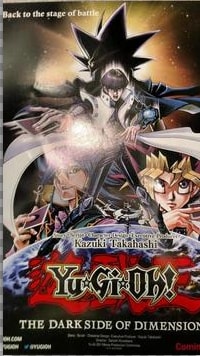 It was announced on Saturday at Comic-Con International: San Diego, that the brand new movie from the
Yu-Gi-Oh!
franchise, titled
Yu-Gi-Oh! The Dark Side of Dimensions
, will premiere in Japan in Spring 2016.
The movie is set to take place six months after the story of the manga and will feature original characters from the franchise, such as Yugi and Seto Kaiba. According to
Kazuki Takahashi
, the original creator of the
Yu-Gi-Oh!
manga series, some of the characters and monsters will be redesigned.
It was revealed during the panel that the movie will feature a new threat comprising a new villain with powerful cards. It was also referenced that Kaiba will be a centerpiece to the movie's plot. Other characters set to return include Jonouchi (Joey), Anzu (Téa), and Bakura from the original series. It was also mentioned that the new cards will be released for fans to actually purchase.
The new movie will be celebrated as part of the manga's 20th anniversary.
Trailer:
https://www.youtube.com/watch?v=biwQdHS3V7E&feature=youtu.be
Source:
iDigitialTimes
Previous related news:
New Movie for the Original 'Yu-Gi-Oh!' Premieres in 2016

RSS Feed