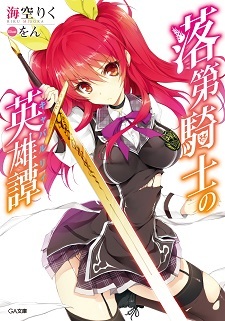 The
Shounen Gangan
magazine's April issue, which will be released on March 12, reveals that the light novel series
Rakudai Kishi no Cavalry
(
A Chivalry of the Failed Knight
) will receive an anime adaptation.
Riku Misora
started the series in 2013, and it is illustrated by
Won
. It is published by SoftBank Creative under the GA Bunko label and has six volumes in print.
The series revolves around Mage-Knights, humans with supernatural powers who can materialize a weapon from their souls. Ikki Kurogane, dubbed as the "Failure Knight" for having no talent in modern-day magic, is a repeating student in an institution for Mage-Knights because of his failing grades. With the installation of a new head of the institution, a new rule was stated: knights with compatible abilities must share rooms and train together for the whole school year to maximize their abilities.
One day, Ikki encounters a half-naked girl, Stella Vermillion, who was changing in his room. It turns out that she is a princess of a foreign country and a Rank A Mage-Knight to boot. Stella challenges Ikki to a duel where the loser must be obedient to the winner. This fateful meeting changes Ikki's life as he strives to become a real Mage-Knight.
Source:
Yaraon
Rakudai Kishi no Cavalry
on MAL

RSS Feed