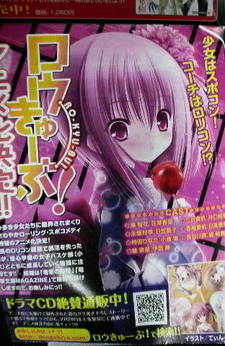 According to Dengeki, Aoyama Sagu's light novel "
Ro Kyu–Bu!
" was announced to be getting an anime adaptation.
Cast
Hasegawa Subaru:
Kaji Yuuki
Minato Tomoka:
Hanazawa Kana
Misawa Miho:
Iguchi, Yuka
Nagatsuka Saki:
Hikasa Yoko
Hakamada Hinata:
Ogura Yui
Kashii Airi:
Hidaka Rina
Takamura Mihoshi:
Ito Shizuka
Synopsis:
Hasegawa Subaru enters a basketball club of Nanashiba High School, but the activity of the club gets suspended because the club leader falls in love with an 11 year old daughter of the coaching teacher. Subaru's aunt asks him to coach a basketball club of elementary school girls. At first, he is reluctant to teach small girls, but he devotes himself to the club as he knows the complex circumstances of them.
Source:
Scan of Dengeki no Kanzume
Update Apr 7
Staff
Director: Kusakawa Keizo ("
Mahou Shoujo Lyrical Nanoha A's
", "
Mayoi Neko Overrun!
")
Character Design: Noguchi Takayuki ("
Queen's Blade: Utsukushiki Toushitachi
")
Production Studio:
Project No.9
and Studio Blanc
Source:
Dengeki
Ro-Kyu-Bu!
on MAL