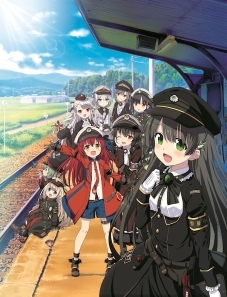 An official website for a television anime adaptation of
Lose
's
Maitetsu
visual novel opened on Wednesday, revealing cast, staff, and a teaser visual (pictured). The anime will air in 12 five-minute episodes under the title
Rail Romanesque
this Fall on Tokyo MX.
Synopsis
Set in Hinomoto, a fictional version of Japan, where for a long time railway travel served as the most important form of transport. Each locomotive was paired with a humanoid control module, so-called Raillord, that aided the train operator. However, many rail lines had been discontinued due to the rising popularity of 'aerocrafts,' a safe and convenient aerial mode of transport. As such, their accompanying railroads also went into a deep sleep.
Soutetsu had lost his entire family in a rail accident and was adopted into the Migita household, which runs a shochu brewery in the city of Ohitoyo. He returned to his hometown to save it from the potential water pollution that would occur if they accepted the proposal to build an aerocraft factory nearby. He woke up the Raillord Hachiroku by accident and became her owner. For different purposes, they agreed to help find her lost locomotive, with the help of his stepsister Hibiki, the town's mayor and local railway chief, Paulette and others. (Source: VNDB, edited)
Cast
Suzushiro:
Sumire Uesaka
(
Araburu Kisetsu no Otome-domo yo
)
Kiko:
Aya Suzaki
(
Yesterday wo Utatte
)
Staff
Chief Director, Sound Director:
Hisayoshi Hirasawa
(
Tachibanakan Triangle
,
Yatogame-chan Kansatsu Nikki
)
Script: Kouichi Motomura
Character Design:
Takayuk Noguchi
(
Hachigatsu no Cinderella Nine
)
Music:
Ayumi One.
Sound Production:
Cloud22
Production Cooperation:
Amumo 98
Studio:
Saetta
J-pop singer Ayumi., voice actress
Megu Sakuragawa
, and Masayo Shinkai will perform the theme song.
Lose originally developed the adult game in March 2016. The game was ported to PlayStation 4 and Nintendo Switch under the title
Maitetsu: Pure Station
in July 2018 and January 2020, respectively. Sekai Project released a censored version of the visual novel globally on Steam in June 2018.
A
manga adaptation
by
Ame Kanro
was serialized on Famitsu's
Comic Clear
website between December 2017 and January 2019. Kadokawa published the manga in two volumes in August 2018 and March 2019.
Official site:
https://railromanesque.jp/
Official Twitter: @
rail_romanesque
Source:
animate Times
Maitetsu
on MAL

RSS Feed