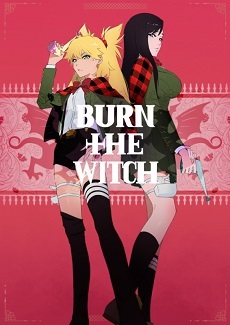 A theatrical anime adaptation of the
Burn the Witch
one-shot was announced during the Bleach 20th Anniversary Project & Tite Kubo New Project Presentation livestream on Saturday. The anime will debut in Fall 2020.
Synopsis
Historically, 72% of all the deaths in London are related to dragons, fantastical beings invisible to the majority of the people. While unknown to most, some people have been standing up to these dragons.
Only inhabitants of Reverse London who live in the hidden "reverse" side of London can see the dragons. Even then, only a selected few become qualified enough as witches or wizards to make direct contact with them.
The protagonists of the story are witch duo Noel Niihashi and Ninny Spangcole. They are protection agents for Wing Bind (WB), an organization for dragon conservation and management. Their mission is to protect and manage the dragons within London on behalf of the people. (Source: Official site)
Voice actresses
Yuina Yamada
(
Anima Yell!
,
Kuromukuro
) and
Asami Tano
(
Zombieland Saga
,
Love Live! Sunshine!!
) are playing the lead characters Noel Niihashi and Ninny Spangcole, respectively.
Staff
Director:
Tatsurou Kawano
(
Koutetsujou no Kabaneri
action animation director,
Psycho-Pass 2
animation director)
Assistant Director: Yuuji Shimizu (
Penguin Highway
key animation)
Script:
Chika Suzumura
(
Kurage no Shokudou
)
Character Design: Natsuki Yamada (
Susume, Karolina.
)
Dragon Design: Keisuke Ookuka (
Pandora to Akubi
character design)
Background Art: Studio Colorido Art Department
Art Director:
Kunihiko Inaba
(
Mondaiji-tachi ga Isekai kara Kuru Sou Desu yo?
)
Color Design:
Miho Tanaka
(
Suisei no Gargantia
)
CG Director: Tsukasa Saitou (
Owari no Seraph
)
Director of Photography:
Kasumi Tougou
(
Jashin-chan Dropkick
)
Music:
Keiji Inai
(
Nejimaki Seirei Senki: Tenkyou no Alderamin
)
Sound Director:
Keiichirou Miyoshi
(
Megalo Box
)
Studio:
Studio Colorido
Production: Team Yamahitsuji
Tite Kubo
published
Burn the Witch
in
Weekly Shounen Jump
in July 2018, nearly two years after ending the serialization of
Bleach
. VIZ Media simultaneously published the chapter in English. The one-shot will receive a regular serialization in Weekly Shounen Jump this Summer.
PV
Official site:
https://burn-the-witch-anime.com/
Official Twitter: @
BTW_anime
Source:
Moca News
Burn the Witch
on MAL

RSS Feed