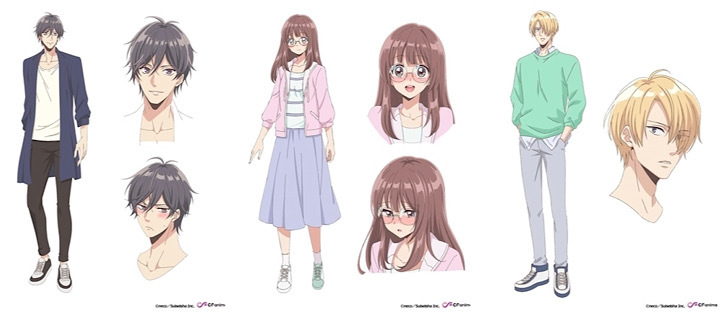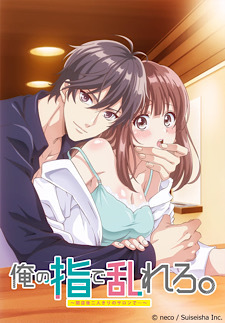 ComicFesta announced on Sunday that
neco
's teen love manga
Ore no Yubi de Midarero. Heitengo no Saron, Ijiwaru ni Jirasarete
(
Crazy Over His Fingers. After the Salon Closes, He Cruelly Makes Me Impatient
) will receive an anime adaptation in April 2020. The production is titled
Ore no Yubi de Midarero. Heitengo Futarikiri no Salon de...
(
Crazy Over His Fingers. The Two of Us Alone After the Salon Closes...
). Cast members, staff, and a key visual (pictured right) were also unveiled.
Tokyo MX will premiere a standard version of the anime on April 6, 2020 at 1:00 a.m. ComicFesta Anime will begin streaming a complete adult-rated version the same day at midnight. The standard version will also be posted to the official ComicFesta Anime
YouTube channel
.
Synopsis
Fumi works as an assistant at a popular salon in the city and is aiming to become a hairdresser. She receives strict guidance from Sousuke, the salon's charismatic hairdresser and manager. Every time he touches Fumi, she becomes agitated. One day after the salon closed, Fumi stands in as Sousuke's practice partner at the shampoo station. As he touches her and sprinkles her with water, she becomes angry again! Or so the thought...could she actually be attracted to him? Sousuke flashes an evil smile as he senses Fumi's heart, and his fingertips start to stroke every corner of her body...Fumi cannot refuse his fingers anymore.
Cast (pictured above from left to right)
Standard version
Sousuke Nanase:
Wataru Komada
(
The iDOLM@STER SideM
)
Fumi Hoshiya:
Yuri Yamaoka
(
Kyoukai no Kanata
)
Kaname Chiba:
Takuma Nagatsuka
(
Owari no Seraph
)
Complete version
Sousuke Nanase: Manaka Sawa (
Soredemo Tsuma o Aishiteru
)
Fumi Hoshiya: Hachi Mitsuko
Kaname Chiba: Shishimaru "ICE" Sakura
Staff
Director:
Mitsutaka Noshitani
(
Araiya-san!: Ore to Aitsu ga Onnayu de!?
)
Script:
Shinichiro Sawayama
(
Fella Pure: Mitarashi-san Chi no Jijou The Animation
)
Character Design, Chief Animation Director:
Taihei Nagai
(
Papa Datte, Shitai
)
Sound Director:
Takahiro Enomoto
(
Outbreak Company
)
Sound Production:
Studio Mausu
Studio:
Magic Bus
Production:
Suiseisha
,
Picante Circus
neco began publishing the series digitally on TL Screamo in 2019. Suiseisha also publishes the story in its Clair TL magazine. The second compiled volume will be released on April 18. Coolmic licensed the series in English and began publishing it digitally in October 2019 under the title
Crazy Over His Fingers
. The 23rd chapter will be released on February 25.
Official site:
https://oreyubi.cf-anime.com/#
Official ComicFesta Twitter: @
ComicFestaAnime
Source:
animate Times
Ore no Yubi de Midarero. Heitengo Futarikiri no Salon de...
on MAL

RSS Feed