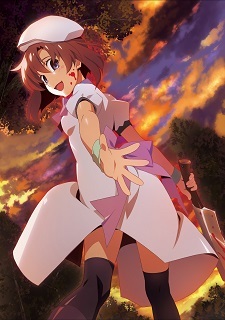 A new anime project for the
Higurashi no Naku Koro ni
(
Higurashi: When They Cry
) visual novel was announced by doujin circle 07th Expansion on Monday. Kadokawa simultaneously opened an official website, revealing a key visual (pictured) and an announcement video.
The new anime project is being produced by animation studio
Passione
(
Rokka no Yuusha
,
Joshikousei no Mudazukai
).
Akio Watanabe
(
Bakemonogatari
,
Grisaia no Kajitsu
) is in charge of the character designs.
Infinite
is credited for production.
Synopsis
Keiichi Maebara has just moved to the quiet little village of Hinamizawa in the summer of 1983, and quickly becomes inseparable friends with schoolmates Rena Ryuuguu, Mion Sonozaki, Satoko Houjou, and Rika Furude. However, darkness lurks underneath the seemingly idyllic life they lead.
As the village prepares for its annual festival, Keiichi learns about the local legends surrounding it. To his horror, he discovers that there have been several murders and disappearances in the village in recent years, and that they all seem to be connected to the festival and the village's patron god, Oyashiro. Keiichi tries to ask his new friends about these incidents, but they are suspiciously silent and refuse to give him the answers he needs. As more and more bizarre events occur, he wonders just what else his friends might be keeping from him, and if he can even trust them at all.
When madness and paranoia begin taking root in Keiichi's heart, he will stumble straight into the mysteries at work in Higurashi no Naku Koro ni, a story that is told across multiple arcs. [Written by MAL Rewrite]
Studio Deen
produced the first
Higurashi no Naku Koro ni
(
Higurashi: When They Cry
) television anime in Spring 2006, which aired in 26 episodes. A 24-episode sequel titled
Higurashi no Naku Koro ni Kai
(
When They Cry: Kai
) premiered the following Summer. The five-episode
Higurashi no Naku Koro ni Rei
(
When They Cry: Rei
) original video anime series debuted in 2009.
Geneon Entertainment USA originally licensed the first season in North America and released it on six DVDs before going defunct in 2007. Funimation re-released it on DVD in 2009 and 2010, but did not renew the license due to poor sales. Sentai Filmworks reacquired the anime series in 2015 and shipped the first and second season, as well as the original video anime on Blu-ray and DVD in March, May, and July 2016, respectively. The licensor also
released
a complete Blu-ray collection of all three installments in December 2017.
07th Expansion released the first chapter of the psychological horror visual novel,
Onikakushi-hen
(
Demoned Away Chapter
), in August 2002. The eighth and final chapter in the original series,
Matsuribayashi-hen
(
Festival Accompanying Chapter
), was published in August 2006. Three extra chapters were released in a fandisc in December that year. The latest installment in the franchise,
Higurashi no Naku Koro ni Hou
(
When They Cry: Gift
), was released in August 2014.
MangaGamer released the original visual novel in English from 2009 to 2010. The company also plans to release
Higurashi no Naku Koro ni Hou
in 14 chapters. The seventh chapter launched on July 18.
Announcement
Official site:
https://higurashianime.com/
Official Twitter: @
higu_anime
Source:
Anime! Anime!
Higurashi no Naku Koro ni
(Shin Project) on MAL

RSS Feed