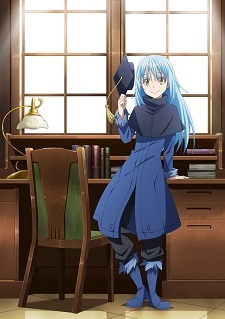 The official website for
Tensei shitara Slime Datta Ken
announced on Tuesday that a three-part OVA will be bundled with the 14th, 15th, and 16th manga volumes. The volumes will be paired with one episode each of the original trilogy written by
Fuse
. Volume 14 will be released in Japan on March 27, 2020.
Synopsis
Rimuru has been teaching Shizue's students at Ingracia Kingdom's Freedom Academy. The time has come for the school's annual outdoor training event, where the students will test their combat skills in the field. Rimuru is determined to win the competition and take home the prize money, but he is challenged by Jeff, an honorary teacher who sees Rimuru as a rival. The competition is underway when suddenly an unexpected enemy appears!
A special screening event will be held on January 26, 2020 at Marunouchi Piccadilly to showcase the series' previous two OVAs—bundled with the 12th and upcoming 13th volume—and first episode of the new trilogy. The event will feature introductions and live commentary by
Miho Okasaki
(Rimuru Tempest),
Chikahiro Kobayashi
(Ranga), and
Azusa Tadokoro
(Chloe).
The adventure fantasy series' first OVA was originally scheduled to release with the 11th manga volume in March, but it was
delayed
until December 4 with the 13th volume. The second OVA was released in July with the 12th volume. The first TV anime season by
8bit
premiered in Fall 2018, and a
second season
is slated for 2020.
The anime series adapts
Taiki Kawakami
's
manga
, which is based on the
light novel
written by Fuse. Funimation licensed the anime in North America and
released
the first 12 episodes on Blu-ray and DVD on October 1. The second half, containing episodes 13-24, will ship on home video on February 4, 2020.
Kodansha Comics licensed the manga in English in 2016 and
published
the 11th volume on October 15. Yen Press licensed the original light novel in English in 2017 and
released
the seventh volume on August 21.
Source:
Moca News
News submitted by
vanillaguard

RSS Feed