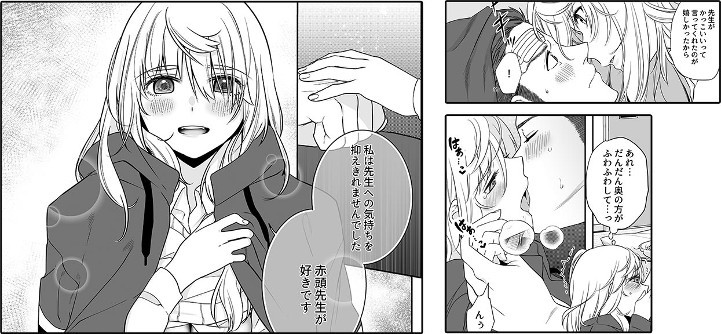 Musubi Onigiri's
Ookami-san wa Taberaretai
(
I Want to Be Eaten by a Wolf
) teens-love manga won the grand prize at WWWave Corporation's Anime-ka Kakuyaku! Souryo-waku Soudatsu Manga Taisho contest on Friday. The series will be serialized and compiled into physical volumes, as well as get an anime adaptation. Goaku was also awarded prize money of 500,000 yen (approximately US$4,620).
The anime will join web manga platform ComicFesta's lineup of short anime adaptations.
Synopsis
"I want Akagashira-sensei to be my first!"
Having a run in with the "skirt bandit," Ookami almost has her skirt stolen. Her teacher, Akagashira, passes by and becomes her hero after stopping the theft. As thanks, Ookami invites Akagashira to her home, but she has another reason for bringing him over. (Source: WWWave Corporation, edited)
The runners up of the competition include ifpark's
Jelly Slime Musume to Kashita Kouhai wa Amakute Tanyoku
(
The Underclassman Who Changed Into a Jelly Slime Girl is Sweet and Greedy
)and Daiku Kuron's
Akazukin-chan to Ryoushi-san no xxx na Okite
(
Little Red Robin Hood and Hunter's xxx Law
). Each author received a serialization and compiled printed volumes for their manga, and 300,000 yen (approximately US$2,772) and 100,000 yen (approximately US$924), respectively, in prize money.
Source:
Value Press
,
ANN

RSS Feed