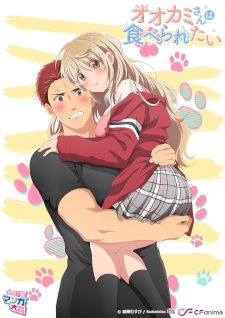 ComicFesta opened a website for the
previously announced
anime adaptation
of Musubi Onigiri's
Ookami-san wa Taberaretai
manga on Wednesday, revealing the main staff, cast, theme song, and a key visual (pictured). The short anime will air censored on Tokyo MX and stream on YouTube and Niconico beginning September 7 at 1:00 a.m. Uncensored episodes will stream on the ComicFesta Anime Zone website an hour earlier.
Cast
Tatsumi Akazu:
You Suzuki
(
Souryo to Majiwaru Shikiyoku no Yoru ni...
)
Hinako Ookami:
Iroha Haruno
(
XL Joushi.
)
Rei Obayama: Kazuma Hoshino (
Amai Choubatsu: Watashi wa Kanshu Senyou Pet
)
Staff
Director: Kazuhiro Toda (
Skirt no Naka wa Kedamono Deshita.
series composition)
Character Design: Kei Sankaku
Chief Animation Director, Costume Design: LAZZ (
Yatogame-chan Kansatsu Nikki Nisatsume
animation director)
Color Design: Saku Suzuki
Art Director, Art Setting: Mame (
Tachibanakan Triangle
)
Director of Photography: Mito Kanda
Sound Director:
Hisayoshi Hirasawa
(
Ishuzoku Reviewers
)
Sound Production:
Studio Mausu
Studio:
Peak Hunt
Production:
Suiseisha
Singer
Saki Hazuki
(
Omiai Aite wa Oshiego, Tsuyoki na, Mondaiji.
) will perform the theme song "Koi no Ookami."
Official site:
https://lp.wwwave.jp/comicgp/okamisan.php
Source:
Comic Natalie
News submitted by
DatRandomDude

RSS Feed