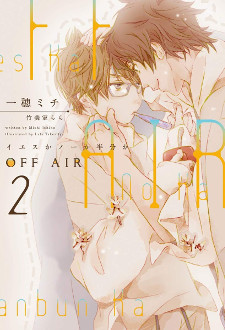 The wraparound jacket on the second volume of
Off Air: Yes ka No ka Hanbun ka
—a collection of side-stories of Michi Ichiho's
Yes ka No ka Hanbun ka
(
Yes, No, or Maybe Half?
) boys' love light novel—revealed on Thursday that an anime adaptation for the series is in production.
Synopsis
Kunieda Kei is a popular, young TV announcer whose public and private personas are so different, they might be called extreme. On the outside, he is the picture of perfection, affectionately nicknamed "The Prince," while on the inside he is constantly cursing at all of the incompetence around him. Of course, no one knows this secret of his.
One day, Kei meets animation artist Tsuzuki Ushio for a work assignment. While Kei is in "inside mode," he later runs into Tsuzuki, who doesn't recognize him in his worn-out sweats and a facemask, but as compensation for injuring Tsuzuki's arm, Kei gets roped into helping out with his work. (Source: Novel Updates, edited)
Ichiho, with illustrations drawn by
Lala Takemiya
, began publishing the novels in November 2014. Shinshokan shipped the third volume in June 2016.
Source:
Comic Natalie
Yes ka No ka Hanbun ka
on MAL

RSS Feed