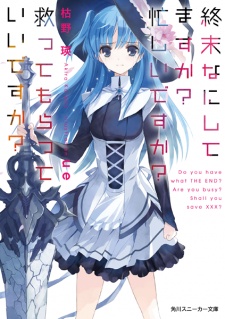 The second volume of the light novel
Shuumatsu Nani Shitemasu ka? Mou Ichido dake, Aemasu ka?
(
SukaMoka
) will reveal on July 1 that its prequel series
Shuumatsu Nani Shitemasu ka? Isogashii desu ka? Sukutte Moratte Ii desu ka?
(
SukaSuka
) will be receiving an anime adaptation.
The light novel series is written by
Akira Kareno
and illustrated by
ue
.
SukaSuka
had five volumes between November 2014 and April 2016, while the first volume of
SukaMoka
was released on April 1, 2016. The series received a
manga adaptation
drawn by
Kaname Seu
, which has been serialized under Media Factory's
Monthly Comic Alive
magazine since June 27.
Synopsis
Five hundred years have passed since humanity went extinct at the hands of the fearsome "beasts." Even up in the sky, where the surviving races dwell on floating islands, these monstrosities constantly threaten to bring death and destruction. Only a small group of young girls, the Leprechauns, can wield the ancient weapons needed to defeat these creatures. Into the girls' unstable and fleeting lives, where a call to certain death could come at any moment, enters an unlikely character: a young man who lost everything five hundred years ago, the last living human awakened from a long, icy slumber.
Source:
Otakomu

RSS Feed