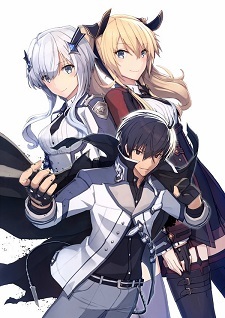 The Dengeki Bunko Aki no Namahousou Festival event announced a television anime adaptation of
Shuu
's
Maou Gakuin no Futekigousha: Shijou Saikyou no Maou no Shiso, Tensei shite Shison-tachi no Gakkou e Kayou
(
The Misfit of Demon King Academy: History's Strongest Demon King Reincarnates and Goes to School with His Descendants
) light novel on Sunday.
Voice actor
Tatsuhisa Suzuki
(
Sora no Otoshimono
,
Nanatsu no Taizai
) will star as the protagonist Anos Voldigoad.
Synopsis
Anoth, the Demon King of Tyranny, has defeated humans, spirits, and gods alike. But even demon kings get tired of all the fighting sometimes! Hoping for a more peaceful life, Anoth decides to reincarnate himself. When he wakes two thousand years later, though, he finds the world has become too peaceful—his descendants have grown weak and magic is in serious decline.
Intending to reclaim his rightful place, he enrolls in Demon King Academy, where he finds that his magical power is off the charts. Literally. And because they can't measure his power, the faculty and other students regard Anoth as a misfit. With the support of Misha, the one student he manages to befriend, the misfit (Demon King) begins his climb up the demon ranks! (Source: Square Enix USA, edited)
Shuu
launched
the fantasy magic action series on the Shousetsuka ni Narou website in April 2017. Dengeki Bunko began printing the novel with illustrations by
Yoshinori Shizuma
(
Zero kara Hajimeru Mahou no Sho
,
Toji no Miko
) in March 2018. Kadokawa will publish the fifth volume on Thursday.
Maou Gakuin no Futekigousha
has a cumulative 850,000 copies of its volumes in print.
A
manga adaptation
by
Haruka Kaya
has been serialized in
Manga UP!
web magazine since last July. Square Enix shipped the second volume on May 10, with the third volume also scheduled for a Thursday release.
Square Enix
licensed
the manga in English under its
new Manga & Books imprint
this past July. The first volume is scheduled to go on sale on April 28, 2020.
Official site:
https://maohgakuin.com/
Official Twitter: @
maohgakuin
Novel special site:
https://dengekibunko.jp/special/maougakuin/
Source:
Dengeki Online
Maou Gakuin no Futekigousha: Shijou Saikyou no Maou no Shiso, Tensei shite Shison-tachi no Gakkou e
on MAL

RSS Feed