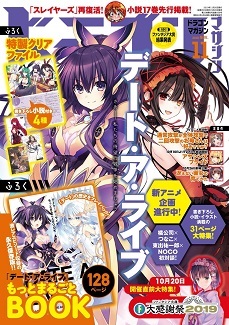 The official website of
Date A Live
announced a new anime for the series on Wednesday. The November 2019 issue of
Dragon Magazine
(pictured) will publish a special feature on the series on Friday.
Synopsis
Thirty years ago, the Eurasian continent was devastated by a supermassive "spatial quake"—a phenomenon involving space vibrations of unknown origin—resulting in the deaths of over 150 million people. Since then, these quakes have been plaguing the world intermittently, albeit on a lighter scale.
Shidou Itsuka is a seemingly average high school student who lives with his younger sister, Kotori. When an imminent spatial quake threatens the safety of Tengu City, he rushes to save her, only to be caught in the resulting eruption. He discovers a mysterious girl at its source, who is revealed to be a "Spirit," an otherworldly entity whose appearance triggers a spatial quake. Soon after, he becomes embroiled in a skirmish between the girl and the Anti-Spirit Team, a ruthless strike force with the goal of annihilating Spirits.
However, there is a third party that believes in saving the spirits: "Ratatoskr," which surprisingly is commanded by Shidou's little sister! Kotori forcibly recruits Shidou after the clash, presenting to him an alternative method of dealing with the danger posed by the Spirits—make them fall in love with him. Now, the fate of the world rests on his dating prowess, as he seeks out Spirits in order to charm them. [Written by MAL Rewrite]
Koushi Tachibana
, featuring illustrations by
Tsunako
, launched the
sci-fi romance light novel
in March 2011. Fujimi Shobo published the 20th volume on March 20, and plans to publish the 21st volume on October 19.
Date A Live
has a cumulative 6 million copies of its volumes in print.
AIC Plus+
produced the
first anime season
in Spring 2013. The
second season
by
Production IMS
aired in 10 episodes the following Spring. The
Date A Live: Mayuri Judgment
anime film opened in Japan in August 2015.
Date A Live III
, the third and latest season produced by
J.C.Staff
, premiered in Winter 2019.
Funimation licensed the anime series in North America and shipped the first two seasons on Blu-ray and DVD in
June 2014
and
March 2016
, respectively.
The Fantasia Bunko Dai Kanshasai 2019 event will host a special stage for the anime series on October 20. Voice actresses
Marina Inoue
,
Misuzu Togashi
, and
Ayumi Mano
will attend the stage.
Source:
LN News
Update September 23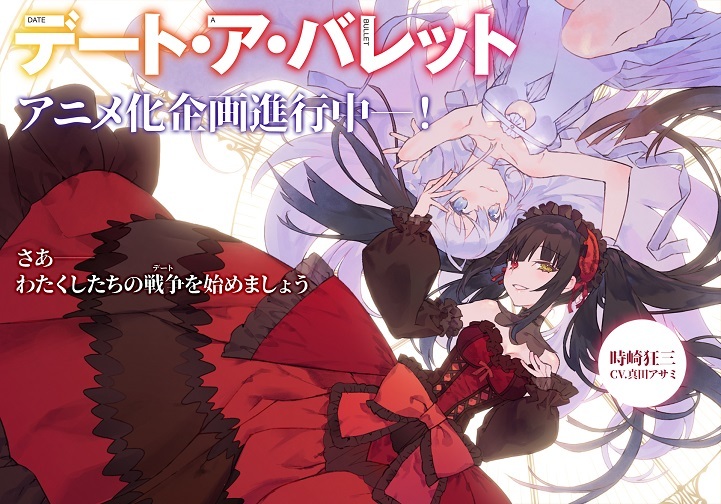 Publishing company Kadokawa announced an anime adaptation of
Yuichiro Higashide
and
NOCO
's
Date A Live Fragments: Date A Bullet
spin-off light novel on Monday.
Synopsis
This is the story of Tokisaki Kurumi that shouldn't have been told——
The amnesiac young girl, Empty, who woke up in the neighboring world encounters Tokisaki Kurumi. Led by her, the place she arrived at was the school's classroom. In order to kill each other, the girls known as semi-Spirits gathered. Now then——Let's begin our battle (date). (Source: Date A Live Wiki)
The spin-off novel centering on the Kurumi has been published by Fujimi Shobo since March 2017. The fifth volume went on sale on March 20.
Official site:
http://date-a-bullet.com/
Source:
Moca News
Date A Bullet
on MAL

RSS Feed