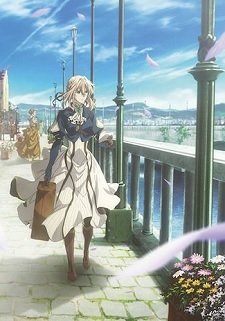 Organizers of Germany's AnimagiC anime convention announced on Tuesday that the world premiere screenings of
Violet Evergarden Gaiden: Eien to Jidou Shuki Ningyou
will proceed as planned on August 3 and 4, despite last week's
apparent arson attack
on the No. 1 Studio building of
Kyoto Animation
.
A statement printed in the official program of AnimagiC indicates that the screening is being held "at the express request of the studio."
Violet Evergarden Gaiden
, which is helmed by rising director
Haruka Fujita
, is not scheduled to open in Japan until September 6, at which point it will screen in theaters for two weeks. An executive with film distributor
Shochiku
told the Kyoto Shimbun last week that production on
Violet Evergarden Gaiden
was said to be completed prior to the fire.
In the aftermath of the incident, however,
Violet Evergarden
series director
Taichi Ishidate
and series producer Shinichirou Hatta have canceled their participation. Music producer Shigeru Saitou will attend the convention instead. AnimagiC is also scheduled to host the European premiere screenings of
Free! Movie 3: Road to the World - Yume
on August 2 and 3. The movie, which is a summary of the third season of
Free!
, opened in theaters in Japan on July 5 and has earned more than ¥225 million in box office sales.
In the days since the deadly fire, which has now killed 34 people, supporters of Kyoto Animation around the world have organized donation drives to help the company rebuild. One online fundraiser begun by North American anime distributor
Sentai Filmworks
has collected more than US$2 million as of writing. Anime goods retailer
Animate
is also accepting donations at all 118 store locations throughout Japan.
On Sunday, Kyoto Animation appointed lawyer Daisuke Okeda as a legal representative for media communication in relation to the fire incident. Okeda told the Mainichi Shimbun newspaper on Tuesday that, as an independent company that does not receive aid, Kyoto Animation will establish a separate bank account so that the funds raised can be redirected toward the victims and their families.
Source:
AnimagiC
,
Kyoto Shimbun
,
Kyoto Animation
,
Mainichi Shimbun

RSS Feed