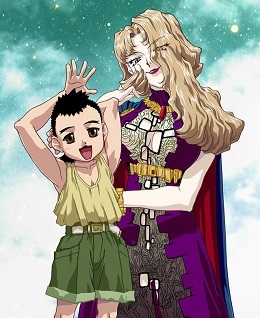 A fifth season of the
Tenchi Muyou! Ryououki
original video anime series was announced by animation studio
AIC
on Friday. An official website also opened for the new season, revealing the production staff, cast, and a key visual (pictured).
Masaki Kajishima
, the creator and original character designer of the franchise, is reprising as the chief director for the fifth season. Screenwriter
Hideki Shirane
is once again credited for the script and series composition.
Yasunori Honda
is returning as the sound director.
The cast members, reprising from the previous seasons, are as follows:
Tenchi Masaki:
Masami Kikuchi
(
Aa! Megami-sama!
)
Ryouko:
Ai Orikasa
(
Tales of Symphonia The Animation
)
Aeka Jurai Masaki:
Haruhi Nanao
(
Fate/kaleid liner Prisma☆Illya
)
Sasami Jurai Masaki:
Chisa Yokoyama
(
Sakura Taisen
)
Mihoshi Kuramitsu:
Michie Tomizawa
(
Bishoujo Senshi Sailor Moon
)
Washuu Hakubi:
Yuko Kobayashi
(
One Piece
)
Noike Kamiki Jurai:
Naomi Shindo
(
Seirei no Moribito
)
Ryo-Ohki:
Etsuko Kozakura
(
Wakaokami wa Shougakusei!
)
Kenshi Masaki:
Yukiko Morishita
(
Saint Seiya: Saintia Shou
)
Kajishima created the
Tenchi Muyou!
franchise in 1992, which has inspired four spin-off television anime and multiple film, manga, and light novel adaptations. The original video animation series spanned for 20 episodes over three seasons. The
fourth
and latest season debuted in 2016 and ended the following year on September 13. The fourth installment marks the first entry in the series in 11 years since the last episode of the third season was released in 2005.
The original video animation series was previously licensed in North America by Pioneer Entertainment (later Geneon Entertainment USA) until the business unit closed in 2007. Funimation rescued that license in 2008 after reaching an agreement with Geneon to distribute its titles.
Official site:
http://tenchimuyo5th.com/
Source:
Anime! Anime!
Tenchi Muyou! Ryououki 5th Season
on MAL

RSS Feed