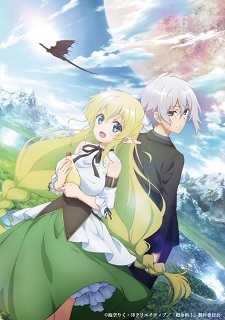 A teaser website launched and announced a TV anime adaptation of the light novel series
Choujin Koukousei-tachi wa Isekai demo Yoyuu de Ikinuku you desu!
. The anime is slated for this year.
Synopsis
Seven high school students caught in an airplane accident wake up in a different, middle-age, fantasy-like world where magic and beast-men (juujin) exist. Instead of panicking at the current situation, however, the students stay calm. The students then build a nuclear plant in a world without electricity, control the economy of a large city in a short work's trip, and finally for their benefactors' sake who are suffering from the misgovernment, they declare war on the evil nobles. None of them are normal high school students. Each of them are super-human high school students that stand at the top of politics, economics, science, and medicine! This is a story of a dream team that possess earth's greatest wisdom and technology, that without any self-restraining bring a revolution to a different world with over-technology.
Staff
Director:
Shinsuke Yanagi
(
Ryuuou no Oshigoto!
)
Series Composition:
Deko Akao
(
Doukyonin wa Hiza, Tokidoki, Atama no Ue.
)
Character Design: Chief Animation Director:
Akane Yano
(
Netoge no Yome wa Onnanoko ja Nai to Omotta?
)
Sound Production:
Bit Promotion
Sound Director:
Satoshi Motoyama
(
Girly Air Force
)
Music:
Hiromi Mizutani
(
Kamisama no Inai Nichiyoubi
)
Music Production:
Pony Canyon
Producer: Dreamshift
Studio:
Project No.9
Cast
Tsukasa Mikogami:
Yuusuke Kobayashi
(
Re:Zero kara Hajimeru Isekai Seikatsu
)
Riruru:
Yuuki Kuwahara
(
Kobayashi-san Chi no Maid Dragon
)
Ringo Oohoshi:
Rina Hidaka
(
Tate no Yuusha no Nariagari
)
Shinobu Sarutobi:
Natsumi Hioka
(
Mitsuboshi Colors
)
Keine Kanzaki:
Hisako Kanemoto
(
BanG Dream!
series)
Aoi Ichijou:
Sayaka Kaneko
(
Slow Start
)
Prince Akatsuki:
Shizuka Ishigami
(
Ulysses: Jehanne Darc to Renkin no Kishi
)
Masato Sanada:
Junji Majima
(
Monster Musume no Iru Nichijou
)
Choujin Koukousei-tachi wa Isekai demo Yoyuu de Ikinuku you desu!
is a light novel series by
Riku Misora
with illustration by
Sakuraneko
that began publishing in October 2015. The eighth volume will be released via GA Bunko imprint on March 15. A
manga
version has been serialized in
Young Gangan
magazine with art by
Kotaro Yamada
since May 2016. Six compiled volumes have been released as of January 25. A
drama CD
was bundled in the seventh light novel volume which was released last June, and the same cast members will be featured for the TV anime. The series has sold total of over 800,000 copies.
PV
Official site:
http://choyoyu.com/
Official Twitter: @
choyoyu_PR
Source:
Moca News
Choujin Koukousei-tachi wa Isekai demo Yoyuu de Ikinuku you desu!
on MAL

RSS Feed