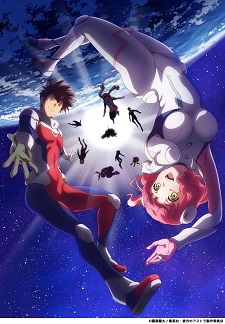 Publisher Shueisha opened an official website for a TV anime adaptation of
Kenta Shinohara
's sci-fi action manga
Kanata no Astra
(
Astra Lost in Space
) on Tuesday. The anime series is scheduled to air in 2019.
Synopsis
The year is 2061, when space travel is now possible and commercially viable, and the students of Caird High School embark on their Planet Camp.
But soon after Group B5 arrived at their planetary camp site, a mysterious and unforeseen sentient light sphere warps its nine members into outer space, stranding them 5012 light years away from their home planet.
With the discovery of an old, unmanned spaceship nearby, the students must stay strong, manage their limited resources, and remain united in the darkness of space, so that all of them can survive their long and likely perilous trek back home aboard the Astra. (Source: Batoto, edited)
Staff
Director:
Masaomi Andou
(
Muv-Luv Alternative: Total Eclipse
)
Series Composition:
Norimitsu Kaihou
(
Gakkougurashi!
)
Character Design:
Keiko Kurosawa
(
Ansatsu Kyoushitsu
)
Studio:
Lerche
Production: Kanata no Astra Production Committee
Shinohara launched
Kanata no Astra
in
Shounen Jump+
web magazine in May 2016, three years after concluding
SKET Dance
. The manga ended the following December with 49 chapters. Shueisha published the manga in five volumes, with the latest in February 2018.
VIZ Media began releasing the chapters on its website in August 2016 and licensed the manga for physical release in November 2017. The fifth and last volume
went on sale
on December 4 last year.
Kanata no Astra
placed
third in the male readers' division in the 2019 Kono Manga ga Sugoi! rankings last December. The manga was also
nominated
for the 12th Manga Taisho awards earlier this year.
Official site:
http://astra-anime.com/
Official Twitter: @
astra_anime
Source:
Moca News
Kanata no Astra
on MAL

RSS Feed