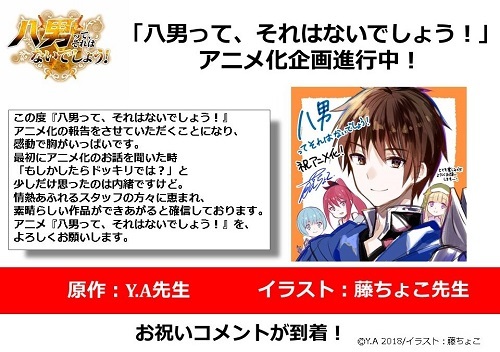 MF Books Editorial Twitter account has announced on Friday that
Hachi-nan tte, Sore wa Nai deshou!
light novel's anime project is in production. The writer
Y.A
released a comment and the illustrator
Choko Fuji
released an illustration celebrating the announcement (shown).
Synopsis
Shingo Ichinomiya, a 25-year-old man working at a firm company, while thinking of tomorrow's busy working day, goes to sleep. However, when he woke up, he found himself in a room unknown to him and realized that he is inside a 6-years-old body, taking over his body and mind. He soon learns from the memories of the boy that the boy was born as the youngest child of a poor noble family living in a back country. Having no administrative skill, he can't do anything to manage the vast land his family has. Fortunately, he is blessed with a very rare talent, the talent of magic. Unfortunately, while his talent could bring prosperity to his family, in his situation it only brought disaster. This is the story of the boy, Wendelin Von Benno Baumeister, opening his own path in a harsh world. (Source: MyAnimeList, edited)
Y.A has been writing the story of the light novel via
Shousetsuka ni Narou
between June 2013 and March 2017. MF Books has released physical volumes since April 2014 and the 15th volume will be released on December 25. The series has currently sold over 1.4 million copies. Taiwan Kadokawa also released the series in Mandarin Chinese under the title
Banang? Bienao le!
(
Eighth Son? Don't be Kidding!
) and four volumes has been released as of July 9.
A
manga
adaptation drawn by
Hiroki Kusumoto
has been serialized in
ComicWalker
since April 2015. Its fifth volume was released on March 22 of this year. A drama CD featuring
Takuma Terashima
(
Log Horizon
) as Wendelin and
Saori Hayami
(
Double Decker! Doug & Kirill
) as Elize was bundled with the 10.5th volume of the ligth novel, released in February 2014.
Source:
animate Times
Source:
Hachi-nan tte, Sore wa Nai deshou!
on MAL

RSS Feed